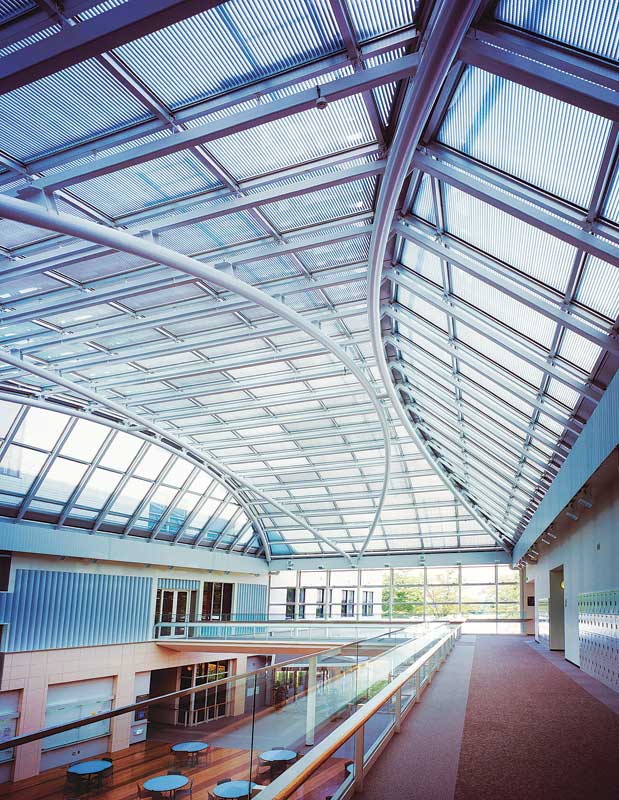 by Jean-François Couturier and Viviane Chan
When specifying glazing solutions for vision, sound, light, and heat control, design actions often come down to a choice between integrated louvers and integrated blinds. Knowing the difference between the two—and which option may be more suitable for an application—
is critical.
Integrated louvers are insulating glass units (IGUs) incorporating cord-free, extruded aluminum louvers within glass that can be customized to virtually any shape for interior and exterior glazing in vertical and sloped applications. Their use commonly eliminates strings and cords, ensures alignment, requires no maintenance, and provides options for daylighting or privacy. When installed in exterior applications, integrated louvers can significantly reduce energy consumption in support of Leadership in Energy and Environmental Design (LEED) requirements.
Integrated blinds address many glazing design requirements for vision, sound, heat, and light control. They are cleaner and more hygienic than traditional Venetian blinds that are separate from glass. However, they can easily be misaligned, leaving visual gaps—even when fully closed, the spacing between slats does not offer complete privacy and light blockage. While they are not known for long-term durability, integrated blinds are the more cost-effective integrated alternative, lending themselves well to residential and educational designs.
Specifying the best solution by building type
The intended purpose and function of a building will dictate whether the best privacy and daylighting solution to be specified is integrated louvers or blinds.
Healthcare facilities
Both integrated solutions make sense for healthcare construction where privacy, safety, and hygiene are key considerations. They are equally hygienic and hermetically sealed within glazing. They both can be made with fire-rated glazing and adaptable anti-ligature operators to protect patients and staff.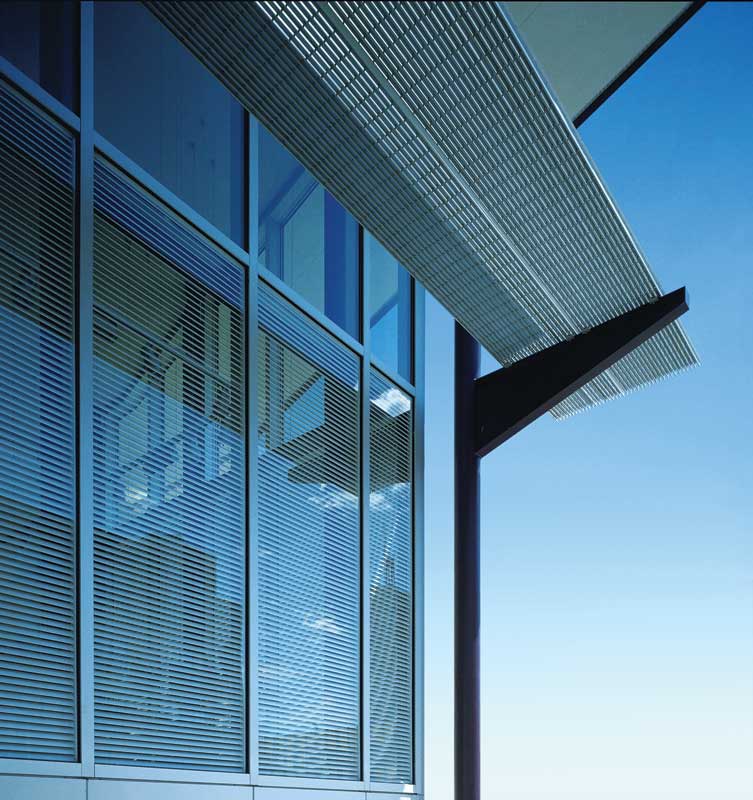 However, integrated louvers can provide superior levels of vision, sound, heat, and light control. For example, they can ensure complete adjustable privacy and visibility levels, whereas integrated blinds may have visibility gaps. Integrated louvers offer better sound control, as the louvers-within-glass product assembly delivers sound-wave barriers on par with concrete masonry unit (CMU) walls. This can be important in a setting where tranquility helps facilitate the recovery process. Increased noise levels have a wide range of effects on patients. In addition to the obvious difficulty in sleeping, patients exposed to higher levels of noise consistently show higher levels of stress, increased heart and respiratory rates, higher blood pressure, and, in the cases of infants, decreased levels of oxygen saturation. (See M. Slevin et al's 2000 article, "Altering the NICU and Measuring Infants' Responses" in Acta Paediatrica [89(5)].) These can all decrease the body's ability to recover and heal, and lead to longer hospital stays, along with higher rates of re-hospitalization. (For more information, see V. Blomkvist et al's 2005 article, "Acoustics and Psychosocial Environment in Coronary Intensive Care" in Occupational and Environmental Medicine [62 (1–8)].) In addition, integrated louvers support Health Insurance Portability and Accountability Act (HIPAA) requirements for doctor-patient privacy.
Correctional facilities
Keeping the staff safe is the priority for any correctional facility. Interior windows and doors are required to monitor activities in inmate areas, gathering spaces, meetings rooms, and clinics. Visibility is important, but these windowed-portals must have shatter- and bullet-resistant glass. Additionally, any privacy solutions must be adjustable—permitting both open views and fully blocked visibility—and strong enough to withstand violent impacts.
Both integrated solutions can offer the required levels of safety while providing adjustable visibility for staff monitoring. They can provide cordless operation (i.e. eliminating the cords or strings posing a strangulation or self-harm hazard), and anti-ligature control knobs without corners or edges. Further, use of high-impact glazing or polycarbonates eliminate the risk of dangerous glass shards. However, integrated louvers have an edge in correctional facilities as the extruded aluminum louvers provide the highest levels of sound thinning and ensure fully blocked visibility when required.