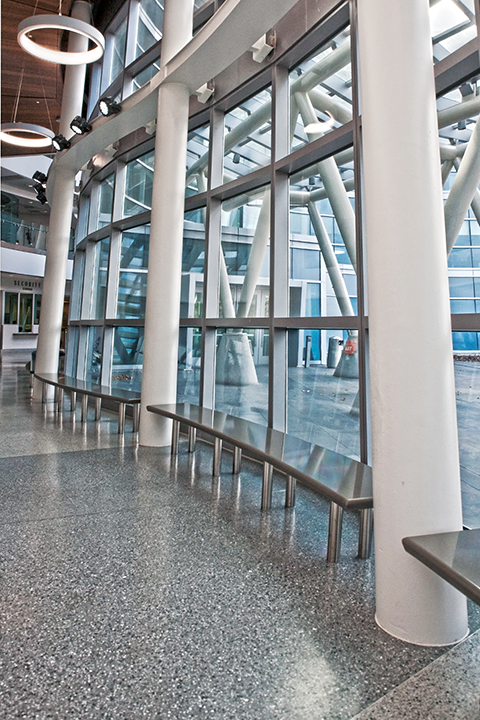 To forestall corrosion, carbon steel fasteners should be plated or coated with zinc, cadmium, nickel, or chromium in accordance with the specifications in TIR-A9 Section 4, "Protection against Corrosion and Hydrogen Embrittlement."
The specifier and purchaser must be aware of these matters and make the best compromise, all factors considered, in the selection of the fasteners. Designs for curtain wall anchoring systems must account for the stresses for which fasteners must be selected and the coatings to be employed to eliminate problems due to galvanic action and stress corrosion.
Various ASTM standards govern coatings or platings in terms of class, service condition, and type, which dictate acceptance testing such as duration of salt-spray application. Class designation relates to the coating thickness, while service condition indicates the severity of the exposure for which the coating is intended (ranging in four steps from mild or indoor to very severe). The type indicates the composition of the coating, such as whether chromate or phosphate layers are added.
Stainless steel offers better corrosion protection than plated carbon steel, but can present difficulties in terms of matching finishes to the framing.
Hydrogen embrittlement is a condition of low ductility in metals resulting from the absorption of hydrogen, which typically occurs during the manufacturing process (particularly electroplating), although it also can occur through in-service corrosion. Bolts and screws—with a hardness of C35 or greater on the Rockwell C scale—are particularly subject to embrittlement. Hydrogen embrittlement can cause unpredictable and potentially disastrous failure, especially of a fastener under tensile load. Tests are available to assess whether hydrogen embrittlement is present
in a batch of fasteners.
Conclusion
Beyond developing a thorough specification, it is essential the fastener purchaser has a means for determining the fasteners that are received meet the specifications.
ASTM standards provide chemical and mechanical requirements for the steels used in fasteners, as well as quality control procedures for shipment lot testing, source inspection, alloy control, heat control, permeability, manufacturer's identification, and material identification. Additionally, the end user should consider adding a requirement that fasteners be produced under a recognized quality assurance (QA) program, such as that governed by the quality management system standard International Organization for Standardization (ISO) 9001, Quality Management Systems–Requirements.
 AAMA curtain wall design references
Additional American Architectural Manufacturers Association (AAMA) curtain wall design references for design professionals and specifiers include:
AAMA CW-DG-1-96, Curtain Wall Design Guide Manual;
AAMA CWG-1-89, Installation of Aluminum Curtain Walls;
AAMA MCWM-1-89, Metal Curtain Wall Manual;
AAMA CW-11-85, Design Windloads for Buildings and Boundary Layer Wind Tunnel Testing;
AAMA TIR A11-04, Maximum Allowable Deflection of Framing Systems for Building Cladding Components at Design Wind Loads;
AAMA TIR-A14-10, Fenestration Anchorage Guidelines;
AAMA 501.1-05, Standard Test Method for Water Penetration of Windows, Curtain Walls, and Doors Using Dynamic Pressure;
AAMA 501.2-09, Quality Assurance and Diagnostic Water Leakage Field Check of Installed Storefronts, Curtain Walls, and Sloped Glazing Systems;
AAMA 501.4-09, Recommended Static Test Method for Evaluating Curtain Wall and Storefront Systems Subjected to Seismic and Wind Induced Interstory Drift, and AAMA 501.6-09, Recommended Dynamic Test Method for Determining the Seismic Drift Causing Glass Fallout from a Wall System (combined document);
AAMA 501.5-07, Test Method for Thermal Cycling of Exterior Walls;
AAMA 501.7-11, Recommended Static Test Method for Evaluating Windows, Window Wall, Curtain Wall, and Storefront Systems Subjected to Vertical Inter-story Movements;
AAMA 503-14, Voluntary Specification for Field Testing of Newly Installed Storefronts, Curtain Walls, and Sloped Glazing Systems; and
AAMA 507-12, Standard Practice for Determining the Thermal Performance Characteristics of Fenestration Systems Installed in Commercial Buildings.
Dean Lewis currently serves as American Architectural Manufacturers Association's (AAMA's) educational and technical information manager, bringing his knowledge of technical training to advance the Fenestration Masters professional certification program. Lewis began his career in the fenestration industry at PPG Industries with positions in project engineering, product design, and sales and customer technical support. He has served on committees of ANSI, ASTM, and ASHRAE. Further experience includes teaching in the industrial and military sectors, and 35 years of managing technical training, publishing, and certification. Lewis can be contacted by e-mail at dlewis@aamanet.org.