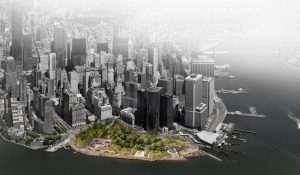 Stantec has been selected by the New York City Economic Development Corporation (NYCEDC) to lead design the Battery Coastal Resilience Project, spanning one-third of a mile of waterfront along the 10-ha (25-acre) Battery Park.
The project is one of several underway or in planning as part of the city's Lower Manhattan Coastal Resiliency initiative focused on protecting Lower Manhattan from the impacts of rising sea levels caused by climate change.
As part of the four-year, $129-million (total) project, Stantec will lead design plans for a reconstructed wharf at the southern tip of Manhattan that will raise the waterfront esplanade approximately 1.5 m (5 ft) above its current elevation—3 m (11 ft) above mean sea level—to protect the park and nearby community, as the Battery currently sits at an elevation that will be submerged as sea levels rise.
Several complex issues will be addressed in the design, including in-water construction, interior drainage, and integration of a new wharf elevation with the existing parkland. The project team anticipates using an adaptive design strategy that will continue to provide views of the New York harbor, relief from sea level rise and nuisance flooding, and flexibility for uncertain future conditions. Resilient planting will also be critical in ensuring survivability from major storms.
The interdisciplinary design will be led out of Stantec's New York City office and will include landscape architecture, waterfront engineering, and environmental review, with the support of several specialty contractors. Design is expected to take 18 months.