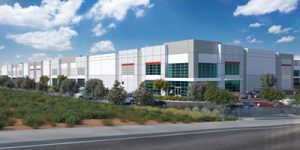 Henderson, Nevada, will welcome a new, 37,725 m2 (406,070 sf) industrial logistics center from developer Seefried Properties.
The project is located in the East Henderson submarket, with frontage along Lake Mead Parkway, offering tenants' connectivity to US-95 and the Interstate 215 as well as access to an abundance of amenities on the Lake Mead Parkway thoroughfare.
Buildings at South 95 Logistics Center will range in size from 5309 m2 (57,146 sf) to 12,651 m2 (136,174 sf), with office space customized to suit in each building. The project will include three points of ingress and egress, concrete tilt-up walls, 178 mm (7 in.) reinforced concrete floors, 9 to 10 m (30 to 32 ft) clear height, 18 m (60 ft) speed bays, 635 auto stalls, and an ESFR sprinkler system. The speculative project is designed to target medium-to-large sized distribution, fulfillment, e-commerce and light industrial users in Henderson.
Leasing efforts for the project will be led by the CBRE team of Jake Higgins, Sean Zaher, and Garrett Toft. The project is designed by HPA Architecture. The civil engineer is Taney Engineering and TWC Construction is the general contractor. Construction is slated to be complete during the third quarter in 2023.