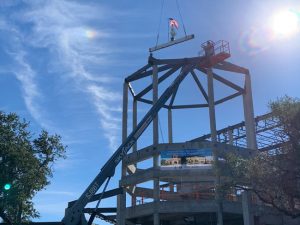 Adolfson & Peterson Construction (AP), a construction management firm and general contractor, and Northside Independent School District (ISD), Texas' fourth-largest school district, topped out the new Marshall Law and Medical Services Magnet High School in San Antonio.
The magnet program is located on the campus of Northside ISD's oldest high school, Marshall High School, which is also undergoing significant renovations.
Representatives from AP, Northside ISD, and Pfluger Architects, the planning architect on the project, were in attendance as AP secured the top beam of the new home to the district's academies of medical services, law and criminal justice, and legal government and administration.
"We are excited to reach this milestone on our first project in San Antonio," said Brandon Gaeke, regional manager for AP. "Construction has gone smoothly, and we are slated to complete the project on time. We could not be happier that our initial foray into this market is a project that will help young San Antonians become esteemed members of the community."
Northside ISD awarded AP the project in June 2020, and completion is estimated for November 2021. The $22.1-million project includes the construction of the 7432-m2 (80,000-sf) magnet high school, new soccer and football fields, and a parking lot. AP is also renovating Marshall High School's career and technology building and administration area.
"The project underway at Marshall High School and Marshall Law and Medical Services Magnet High School is a sign of our district's commitment to ensuring a first-rate education for our students in state-of-the-art facilities," said Brian Woods, superintendent for Northside ISD.