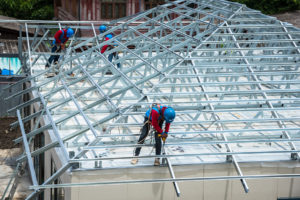 Earlier this month, the Steel Market Development Institute (SMDI) released a guide highlighting ways steel construction products can help a project earn points under the latest version of the U.S. Green Building Council's (USGBC's) Leadership in Energy and Environmental Design (LEED) certification program. The guide, "LEED v4 for Steel Products Used in Construction Applications," will help professionals understand how steel can help toward earning LEED v4 credits.
"A rapidly evolving green building industry and increasing demand for sustainability have led to a number of updates and a more rigorous certification process in LEED v4," said Mark Thimons, vice-president (sustainability) for SMDI and a contributing author to The Construction Specifier. "The new process places an increased focus on material and resource transparency. This new guide for steel construction products will help builders leverage steel's sustainability benefits to meet their certification goals."
Steel has always been well-positioned for credits in categories like recycled content, but LEED's latest version provides building owners the possibility to earn additional credits.
Steel-intensive design often focuses on minimizing the embodied energy and other impacts associated with the extraction, processing, transport, maintenance, and disposal of building materials. The requirements are designed to support a life-cycle approach that improves performance and promotes resource efficiency.
Additionally, steel framing can provide the building block for truly energy-efficient designs, while steel cladding products can help create exceptionally tight building envelopes. Steel roofing provides an excellent platform for photovoltaic (PV) systems to earn Energy and Atmosphere (EA) credits.
Construction professionals can earn Sustainable Sites (SS) points by using steel roofing products to reduce heat island effects and prefabricated steel products to reduce onsite construction times.
The guide can be downloaded here.