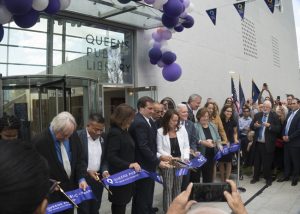 The Hunters Point Library in Queens, New York City, is now open. Designed by Steven Holl Architects, the 2044-m2 (22,000-sf) structure reimagines the traditional library model and provides a diversity of spaces from intimate reading areas to active gathering zones.
The building's aluminum-painted concrete shell acts as a façade and a loadbearing structure. Curtain walls and columns have been omitted.
The program's separation into children's, teen, and adult areas can be read in the sculpted cuts carved out of the façade.
Inside, warm bamboo creates an inviting social space. Natural light enters through large windows on all sides.
A ground-level auditorium under the main section provides public meeting and events space. The stairs switch back from mezzanine to mezzanine, connecting reading areas and concluding in a rooftop terrace.