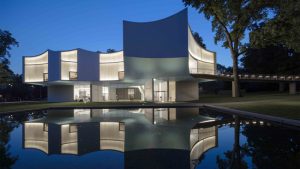 Franklin & Marshall College celebrated the completion of its Winter Visual Arts Building, Lancaster, Pennsylvania, with a virtual event where professor Kostis Kourelis said the "new building is itself a philosophical machine."
The Winter Visual Arts Building opens to students as the college begins its academic year. On the historic campus of Franklin & Marshall College, the new building takes shape as a raised pavilion formed by the site's 200-year-old trees, the oldest elements of the campus. The building's spaces aim to evoke the creative energy involved in teaching and making art.
A first reflection of the new Winter Visual Arts Building for Franklin & Marshall College led Steven Holl of Steven Holl Architects (SHA) to remember Benjamin Franklin's kite on the rainy and thunderstruck night when he first harnessed electricity. Holl's initial sketches of a building like a kite stuck in the trees were a playful beginning.
The college's 21-ha (52-acre) campus is an arboretum of more than 1000 trees. On further study SHA realized that these great trees are the oldest and most prominent geometric force characterizing this special place.
"We thought of the geometry of trees as a way to give shape to the new arts building. Instead of echoing the rectangular block of the former arts building, the new pavilion takes its shape from the inflection of the diameters of those large campus trees," SHA said in a press release. "The kite-in-the-trees sketch then had a much stronger conceptual grounding in the specifics of the site."
The lightweight, two-story 'box-kite' steel frame sits on two ground-floor concrete rectangles to create the dramatic cantilevers and arced geometry with precision and economy. Its main floor is lifted into the trees on a porous ground level open to the campus and adjacent Buchanan Park.
The Winter Visual Arts Building, embodying SHA's design philosophy, naturally adapts to COVID-19 necessities such as social distancing and fresh air. It offers generous social/circulation space, with two main entries on different levels that enable one-way flow when needed, abundant daylight to all rooms, natural ventilation, and outdoor terraces. The architecture is deeply connected to its verdant, park-like campus setting, a restorative place within nature. The reflections of the hovering building at night glowing in the water of a large reflecting pool add to the special articulation of this place.