by Steven G. Naggatz, AIA, NCARB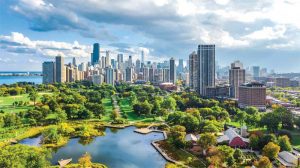 Time is money. Developments in technology and production continue to push the envelope and advance the speed at which buildings are constructed. When properly designed, specified, and executed, details and materials can assist the construction team by significantly reducing the installation time. Even if it is well-intentioned, the use of incompatible materials to increase productivity when installing cladding elements can result in disastrous situations.
Dimension stone and limestone cladding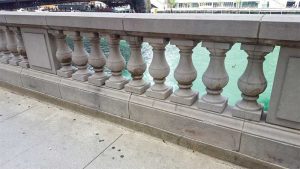 Stone has been used as a building material for thousands of years and continues to be utilized for decorative and functional purposes. Its aesthetics and sense of permanence have continued to make it a popular material choice among architects, contractors, and owners. Buildings of great significance, such as churches, civic centers, and government facilities, were constructed of stone to reflect the structure's importance within the urban context and culture.
The term "dimension stone" refers to natural stone fabricated to specific sizes or shapes. Dimension stone cladding relies on inexpensive backup materials in combination with more expensive facing. Early 20th century stone structures relied on cladding panels that were at least 100 mm (4 in.) thick. These stone-clad buildings were commonly multi-wythe loadbearing assemblies combining high quality stone finished to very tight tolerances with a looser rubble or brick backup. Often, cladding of varying thicknesses was keyed into masonry backup. Iron, galvanized steel, copper alloys, and aluminum have also been used as dimension stone cladding attachments. Advances in fabrication technology and the introduction of new systems have changed how stone is anchored to substrates. Consequently, panels have decreased in thickness over the past 50 years. Modern dimension stone cladding panels are most commonly between 30 and 50 mm (1 ¼ and 2 in.) thick and are anchored with stainless steel—typically rods, straps, dowels, or a combination thereof. Recently, composite assemblies have been introduced in flat panel applications. These panels combine stiff backer materials, such as aluminum honeycomb and adhesives, and have reduced stone thickness to as little as 5 mm (¼ in.). The use of ornamental or decorative stone still requires the use of elements that are more than 100 mm thick.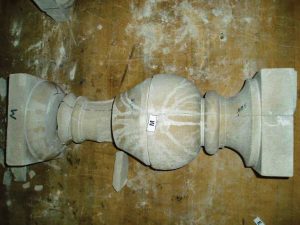 Limestone is a sedimentary rock consisting of either calcium carbonate (calcite) or calcium and magnesium (dolomite) and is suitable for many architectural and structural applications. Considering its sedimentary formation, limestone has a natural bed, and in many cases, the bedding is sufficiently uniform, so it can be machined or cut with little risk of splitting. Limestone tends to be fairly uniform in strength (isotropic) when it is loaded parallel or perpendicular to its natural bedding plane compared to other types of dimension stone, such as marble, granite, or slate. It is preferential to install limestone cladding panels with its natural bed, horizontally, in a manner consistent with its original formation.
'Face-bedded' panels (i.e. bedding layers are vertical) are vulnerable to damage (delamination) through various mechanisms, such as crystallization of salts, dissolution of clay layers, and freeze-thaw cycles. These processes can result in separation of bedding layers within the panel.
Mechanical properties of limestone material vary between quarries, and to some extent, within the quarry itself. The range and variability of mechanical properties of the stone proposed for use should, therefore, be determined by testing.