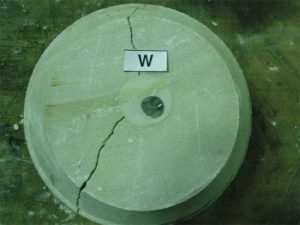 Dimension stone attachments
The test standards and specifications most commonly used to evaluate dimension stone in the United States are published by ASTM International. Cladding elements should be evaluated further with statistical methods and attachments and designed using sound engineering principles. Metal anchors in direct contact with limestone should consist of American Iron and Steel Institute (AISI) Type 304 or 316 stainless steel. Other noncorrosive anchors, such as copper or bronze, are also acceptable. Due to the potential for chemical attack and degradation of the material itself, anchors in direct contact with limestone should not be fabricated with aluminum unless the latter is protected with a corrosion-inhibiting coating. Mill finish or anodized aluminum can be used with granite.
The anchor type varies, depending on the application, but generally consists of wires, dowels, or straps set into holes, kerfs, or other sinkages. The hole, kerf, or sinkage will routinely be oversized to accommodate installation and construction tolerances, and accommodate in-service behavior and/or incidental cladding movement. The ancillary space between the anchor itself and the hole or slot in which it is embedded should be filled with compatible material to prevent moisture accumulation within the void space.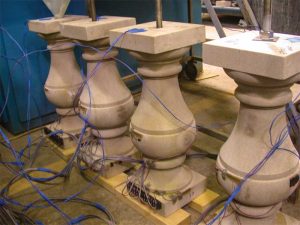 ASTM C1242, Standard Guide for Slection, Design, and Installation of Dimension Stone Attachment Systems, recognizes the use of epoxy-filled holes for liner blocks, or in the case of precast concrete backup, as an adhesive bond for primary anchorage between the stone and stainless steel dowel. However, some epoxy adhesives may be unsuitable for limestone attachments or specific applications (Consult the 22nd edition of the Indiana Limestone Handbook by the Limestone Institute of America, Inc.).
Case studies
Considering the rapid set and connection strength of epoxy-set anchors, there has been an increasing prevalence to anchor dimension stone panels on exterior façades where the anchor void is filled with epoxy. Based on available data, the coefficient of thermal expansion of epoxies used in construction can be between 10 and 30 times higher than the coefficient of thermal expansion for limestone. Considering the potential for development of cracks or spalls resulting from the inherent material property differences, the use of epoxy to fill anchor voids in limestone attachments should be carefully evaluated prior to specifying its use as part of an attachment system. The following case studies present circumstances in which the variables in epoxy-set attachments were likely not considered prior to installation.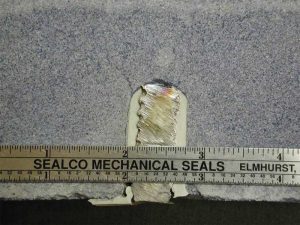 Limestone balustrade
Plans for reconstruction of an aging urban roadway called for the removal and replacement of a limestone balustrade that separated street-level pedestrian sidewalks from a river-level promenade below. The balustrades were built with a combination of traditional elements including bottom and top rails, intermediate piers, and balusters, all constructed of Indiana limestone (Figure 1). The balustrade was built over a period of approximately nine months, between June 2002 and February 2003. Vertical cracks were observed in the balusters within a few months after project completion.
Each baluster has an hourglass profile—plan dimensions at the top and bottom are approximately 200 mm (8 in.) square and each unit is 0.6 m (2 ft) tall. The widest point near the mid-height of the unit is 200 mm and the narrowest point is 90 mm (3 ½ in.). Each baluster was fabricated with a 40-mm (1 ½-in.) continuous vertical hole to accommodate a 20-mm (3/4-in.) diameter stainless steel threaded rod that, in turn, is anchored into the supporting concrete structure. The annular space between the threaded rod and baluster hole was reportedly filled with an epoxy grout. A washer and bolt on top of the baluster secured it in place.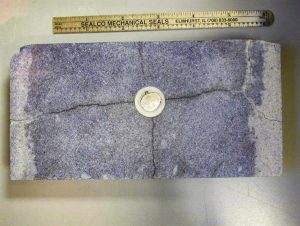 Close-up examination of distress (Figure 2) revealed the cracks are wide (between ½ and 0.9 mm [20 and 35 mils]) near the base (Figure 3) and middle of each baluster and range between 0.18 and 0.9 mm (7 and 20 mils) near the top. The bolts on top of the baluster were found to be only hand tightened, and therefore, likely induced very little stress while tightening the bolts and provided minimal restraint in service.
Destructive removal of representative balusters revealed at least two different types of materials were used to fill the annular space between the inner walls of the hole and the threaded rod. Testing of an epoxy and epoxy grout that were reportedly used to set the balusters show the coefficient of thermal expansion vary between 6.67E-05 (epoxy) and 2.88E-05 (epoxy grout) (Refer to ASTM C531, Standard Test Method for Linear Shrinkage and Coefficient of Thermal Expansion of Chemical-Resistant Mortars, Grouts, Monolithic Surfacings, and Polymer Concretes).