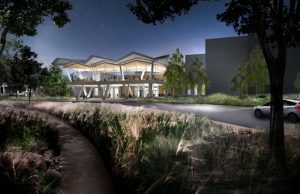 Designed by Studio Gang, the new Arkansas Arts Center (AAC) in Little Rock, Arkansas, has broken ground. The new center seeks to create a space for social interaction, education, and appreciation for the arts.
The AAC's eight architectural additions have resulted in a motley collection of fortress-like spaces lacking a holistic architectural identity. The AAC's three programs are disconnected from each other and their surroundings, making them difficult for visitors to locate and experience.
Working from the inside out, Studio Gang's design includes new construction and renovations. Conceived as a stem that blossoms to the north and south and anchored by new visitor amenities, the design mediates between the center's existing architecture to define a new public gallery and gathering space.
Extensive renovations will transform the museum, adding new dedicated programs for art exhibition, conservation, and research, while the new architecture's pleated, thin-plate structure signals a new visual identity.
At the north end, a new cultural living room acts as a flexible community space for gathering, respite, contemplation, and special events. To the south, an outdoor dining pavilion replaces the existing asphalt parking lot.
Landscape architecture firm SCAPE will add paths, trails, and 250 new trees, which will merge over time with the existing canopy to form a parkland forest, while the architecture's pleats collect stormwater to feed new gardens and native perennial meadows.