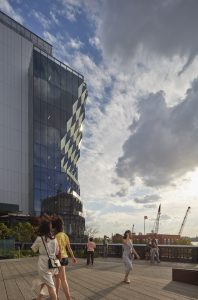 Designed by Studio Gang, 40 Tenth Avenue in New York City is now complete. The new 10-story, 14,864-m2 (160,000-sf) tower will serve as a boutique office building in the city's Meatpacking District.
The structure is characterized by its signature, gem-like curtain wall, chiseled shape, and dynamic relationship with its environment.
The building features panoramic views of the Hudson River and Manhattan, as well as over 1858 m2 (20,000 sf) of outdoor space. The ground floor will include retail area.
Studio Gang's design is rooted in their ongoing research into buildings that are responsive to the incident sun angles on the site, what they term 'solar carving.' In the case of 40 Tenth Ave., the building mass was pushed to the west and carved back to prioritize light and fresh air.
The building's façade is characterized by 3D glass units that carve away the corners of the building and create balconies for tenants. At the top, large terraces provide planted gathering spaces for the building.