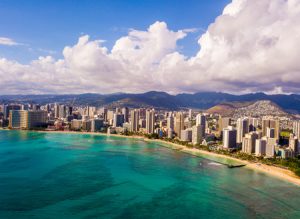 Studio Gang, an architecture and urban design firm, has revealed the design for a 41-story tower in Hawaii inspired by the island's native red sugarcane. Designed with a mix of ground floor-retail and 565 residences above, the tower project called Kō'ula, is oriented to ocean.
In an interview to ArchDaily, Studio Gang's founder Jeanne Gang said, "The structure is this kind of changing vertical Kō'ula, which is one of the plants that's native to Hawaii. The way they move and twist is very beautiful, so the vertical columns respond in that way."
Kō'ula is designed with one to three bedrooms units that will range in size from 28 m² (300 sf) to 139 m² (1500 sf). The project will feature natural materials, colors, and tones that frame views out across the island and the ocean.
The tower is part of a larger development underway in the Ward Village district on Oahu's south shore. Kō'ula is set to begin construction in 2019.
The 24-ha (60-acre) master plan for Ward Village, where this tower is located, is organized by Howard Hughes Corporation. It will include restaurants, shops, and high-rise residential towers. The village is targeting a Leadership in Energy and Environmental Design (LEED) certification. The village will be built with 4500 residences and close to 92,903-m² (1 million-sf) of retail spaces.