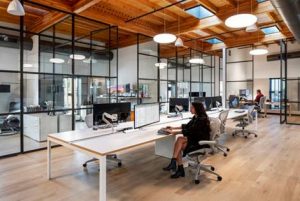 Studio Ma has completed the design for an energy-efficient office for the Phoenix Law Group in Arizona.
The office converts a single-story structure into a modern, wood-clad building with a double-height workplace of sun-dappled interiors and exposed wood finishes in the center of one of Phoenix's trending neighborhoods.
Studio Ma drew on its sustainable design expertise to inform the innovative renovation, ensuring the new law offices would be positioned to achieve net-energy-neutral performance in coming years. Optimized to accept solar and other net-zero energy technologies, the workplace design offers employees a healthy, well-ventilated, and visually open office filled with natural daylight.
"The reimagined building needed to feel and operate as one large open office with strong visual connections among staff members, while also accommodating private offices where the firm's lawyers conduct sensitive, confidential work," said Christopher Alt, RA, Studio Ma's principal.
The inventive solution transforms the structure into a large, two-story collaborative space along with enclosed cubicles and conference rooms, all acoustically isolated from one another by glass partitions. A new mezzanine allows for expansion and amenities.
Alt adds the use of glass was key to achieving the design intent: A merging of the law firm's openness and teamwork along with ensuring each practitioner's requisite separation and discretion. Meticulous detailing of the black-framed glass partitions ensures carefully controlled acoustics while allowing daylight and openness indoors and views to the outside.
The transparent partitions bring daylight and views deep into the building interior, offering staff members access to natural sunlight in all areas. A set of operable skylights illuminates the spaces from above while also circulating fresh air by means of a chimney or stack effect, a technique that draws ventilation air and circulates cooler air toward work areas, where needed, and flushes hot air out of the roof. Large glass openings on the building's exterior likewise allow daylight in and connect occupants to the surrounding neighborhood. A continuous façade of modern wood louvers wraps the entire building, shading it from the desert sun's harsh rays.
Staying within the client's budget, Studio Ma expanded the project scope to include a mezzanine level with a fitness center for employees that doubles as a meditation room and an amenity deck to house team-building exercises and public events. A café with a break area for casual socializing is also centrally located for staff and visiting clients to enjoy.