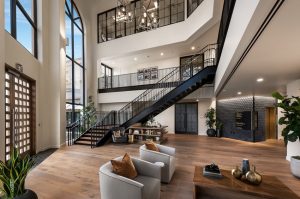 Architecture firm Studio Ma has completed the reimagining of a Phoenix, Arizona, building for CASA, a provider of shared workspaces. The new project is recognized for its unmatched employee experience and sense of community.
The new workplace optimizes aesthetics and functionality while being in harmony with the natural environment for improving the well-being of occupants.
For the CASA project, Studio Ma worked with George Oliver Companies and general contractor RSG Builders. The extensive renovation project transforms a 1989, Spanish-style structure into a next-generation office experience featuring a variety of creative workspaces. It is also packed with wellness and personal-development amenities.
"The context-sensitive design celebrates the original building's Spanish architectural roots with natural wood elements and smooth stucco finishes," said Studio Ma principal Jason Boyer, AIA, LEED AP, who led the design team. "These are complemented by modern materials and biophilic, nature-inspired elements to create a fresh, contemporary atmosphere."
Black steel details, exposed ceilings, and ample natural light reinforce the mix of co-working and progressive spec-suite environment, which carry a contemporary appeal while also integrating the CASA brand into the popular Uptown neighborhood of Phoenix.
In addition to the varied, adaptable office spaces ranging in size from one to 10 desks each, the 16,815-m2 (181,000-sf) CASA development includes a lineup of one-of-a-kind wellness amenities. Organized around two central "relaxation courtyards" with water features and shaded outdoor seating, access points welcome tenants to an indoor/outdoor lounge with games, an onsite wellness center with a yoga room, and a cutting-edge fitness center. Nearby is a meditation room, a library, a 60-seat training center, and a shaded dog park.
"As we continue to grow and take on more complex and rewarding commissions, our creative approach and use of emerging design tools help us forge strong partnerships that propel the work forward and create memorable, sustainable solutions," said Studio Ma's co-founder Christiana Moss, FAIA. "At its core is our first and enduring inspiration—the light and landscape of the Arizona desert."