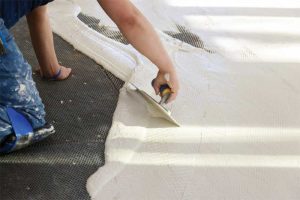 Often referred to as substrate "porosity," substrate surface water absorptivity refers to the ability of a flooring substrate surface to absorb liquid relatively quickly. To better conceptualize, imagine a concrete masonry unit (CMU) block. If a drop of water was placed on the CMU, it would absorb the liquid very quickly. Now, imagine a hard, smooth surface such as steel, existing resilient flooring, or power-troweled concrete, all of which could serve as the substrate for many different flooring products. If a drop of water was placed on any one of those surfaces, it would sit there and likely evaporate before being absorbed.
Why is this of concern for porosity and how that relates to a successful flooring installation? Before addressing this question, it is helpful to provide some historical context. In the 1970s, concerns were raised about indoor air quality (IAQ). The apprehensions grew in the 1980s, and eventually, encompassed the flooring industry, too. An article in our newest sponsored e-book delves further into water absorptivity.
This article appears along with a couple of others in Achieving Success in Concrete Flooring Applications, a free, downloadable resource. To get your copy in either pdf or digital edition, visit www.constructionspecifier.com/ebook/iselogik-achieving-success-in-concrete-flooring-applications-e-book.