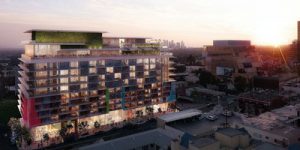 A mixed-use project aimed at revitalizing West Hollywood's 8850 Sunset Boulevard will draw on the surrounding area's gilded past while building its future.
Designed by Arquitectonica to further revitalize the Sunset Strip while paying homage to its legacy, the 8850 Sunset project will include street level cafes, pedestrian-oriented restaurants and bars, retail spaces, a five-star luxury hotel, and residences.
Building on the history of the local area, the development will feature a Viper Room, by Rockwell Group. The Viper Room will include a newly designed public entrance that references the design of the space and a new music venue and recording studio that will also pay tribute to the history of the nightclub in a new modern framework.
The residential portion of the design includes 26 market-rate condominiums and eight affordable housing units as well as state-of-the-art residential amenities. Outdoor dining and amenity terraces with greenspace are complemented by the panoramic views, surrounding hills and the activity of the Sunset Strip.
The building's adjusted form, which will be approximately 22,040 m2 (237,234 sf) of enclosed space and 12 stories maximizes views, light and open space connections that reflect the local environment and surrounding skyline.