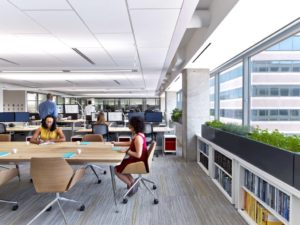 The American Society of Interior Designers (ASID) headquarters in Washington, D.C., has become the first space to be certified to Platinum under both WELL and the U.S. Green Building Council's (USGBC's) Leadership in Energy and Environmental Design (LEED). The space reflects the sustainability goals of LEED along with the health-focused targets of WELL, and was inspected by WELL experts for performance related to the categories of air, water, nourishment, light, fitness, comfort, and mind.
"At ASID, we take tremendous pride in being a champion for good design and demonstrating that design impacts lives—to be the first space awarded WELL-certified Platinum under WELL v1 and LEED Platinum is an incredible honor," said Randy W. Fiser, the organization's CEO. "We began this project with a clear goal of showcasing the many ways design can positively affect the health and well-being of employees while boosting resource efficiency. At ASID, we believe in research-based results in design and placed an emphasis on third-party validation of the space."
To fulfill the standards of both certification programs, the 789-m2 (8500-sf) office incorporates features addressing their various areas of focus. These include:
natural or biophilic elements that reduce stress and improve indoor air quality (IAQ);
sound masking systems to ensure less disruptive acoustics;
high standards for water quality;
lighting regulated in response to circadian rhythms (to enhance employee productivity);
sit/stand desks; and
provision of employee health features, such as fresh produce and a wellness room.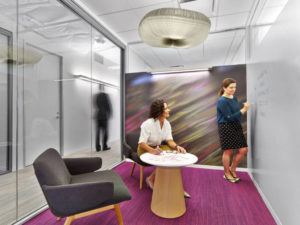 Research done both pre- and post-occupancy supports the positive impact of these features, with improvements being observed in lighting, acoustics, and levels of carbon dioxide (CO2) within the space. Similarly, Cornell University found employee response to the new space was largely positive, with improvements noted in the following metrics:
satisfaction with indoor environmental quality;
job satisfaction;
perceived support from the organization; and
perceived productivity for the organization.
"Becoming WELL- and LEED-certified is the product of revolutionary visioning from the project designer Perkins+Will, commitment from our construction partners and consultants, and complete buy-in from ASID staff," said Fiser.