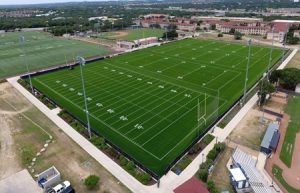 The University of Texas at San Antonio (UTSA) has repurposed its recreational field to make it more functional while achieving a new level of design. The 23,080 m2 (248,430 sf) of premium synthetic turf has been designed to make more room for athletics at the university.
In the new surface, one field stands alone for football practice while the other three are lined to accommodate multiple sports.
Synthetic turf was chosen for the surface to help stand up to the rigorous activity occurring at space. The turf combines slit film and monofilament fibers for optimum durability and structural integrity. It also features a texturized fiber to stabilize the infill. All of these elements combine to deliver an aesthetically pleasing playing surface that is high on durability, safety, and performance.
"With so many of our students involved in these activities we take great pride in creating athletic fields that exceed their needs and expectations," said Laura Munroe, UTSA campus recreation director.