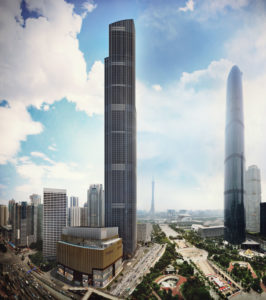 In 2016, 128 buildings standing 200 m (656 ft) or taller were constructed worldwide, marking a new record, according to the Council on Tall Building and Urban Habitat's (CTBUH's) annual review. The previous record of 114 was set the previous year.
This brings the total number of buildings this height to 1168, a 441 percent increase from 2000's total of 265. Of last year's 128, 18 were the tallest in their city, country, or region. Of these, the tallest was Guangzhou CTF Finance Centre. It is also the tallest building in its city, second-tallest in China, and fifth-tallest in the world at 530 m (1738 ft).
This also places Guangzhou CTF Finance Centre among the 10 'supertall' buildings (300 m [984 ft] or more) constructed this year. More than this were anticipated to be constructed, but CTBUH states delays in tall building construction are not uncommon.
Asia completed 84 percent of the total 128 with 107 buildings.
This year, buildings taller than 200 m were constructed by:
South Korea, completing six;
Indonesia, completing five;
the Philippines, completing four;
Qatar, completing four;
the Middle East, completing nine (matching the region's performance from last year);
the United States, completing seven (its second-greatest amount ever and a significant increase from two in 2015); and
China, completing 84 to break last year's record of 68 and exceed all other countries' performance for the ninth year in a row.
The Chinese city of Shenzhen had the highest number of buildings of this height, exceeding the performance of all countries other than China with a total of 11. The total height of buildings completed in this city is 2608 m (8556 ft). Tied for second place were Guangzhou and Chongqing, China, and Goyang, South Korea.