Texas adopts International Swimming Pool and Spa Code
August 12, 2019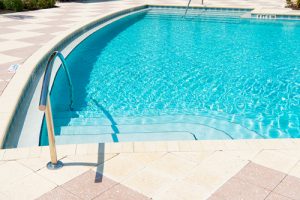 The Texas legislature has passed HB 2858, allowing municipalities in the state to require model standards for building, remodeling, and repairing pools and spas.
The legislature adopted the International Swimming Pool and Spa Code[2] (ISPSC), which was developed by the International Code Council[3] (ICC) in partnership with the Pool and Hot Tub Alliance[4]. It is the only model code addressing design and building requirements for public and residential pools and spas, including safety barriers, sanitation, ladders/steps, depth markers, and energy efficiency.
"The code council applauds the passage of  ISPSC in Texas," said ICC CEO Dominic Sims, CBO. "The safety requirements stipulated in the code will help reduce the risk of drowning, especially for children, and of entrapment incidents."
The law will go into effect in September 2020. However, municipalities can adopt the standards prior to that date.
Endnotes:
[Image]: https://www.constructionspecifier.com/wp-content/uploads/2019/08/Opener-7.jpg
International Swimming Pool and Spa Code: http://icm-tracking.meltwater.com/link.php?DynEngagement=true&H=btYXC68syxmDVppbhVzFoYHdeMNV9070xvOlf%2FNdDQ0wXj6aidRhm%2FSquWLRzg1kQBSgK4Io%2Bsd78G6RfXf0Ls6SZ1Pr1FRLQWzd7yBsv3lxSXtAg5s4TuZ9QVZJTQYg&G=0&R=https%3A%2F%2Fcodes.iccsafe.org%2Fcontent%2FISPSC2018%2Fpreface%3Fsite_type%3Dpublic&I=20190701184459.000001087b99%40mail6-114-ussnn1&X=MHwxMDQ2NzU4OjVkMWEwZmYzZGZhZGJiZjVhOGFlYzE0MTs%3D&S=zMuXQKXkAkvSsFSzCwgy7-JJPxUCV-VV1T96KQ3OtmQ
International Code Council: https://www.iccsafe.org/
Pool and Hot Tub Alliance: https://www.apsp.org/
Source URL: https://www.constructionspecifier.com/texas-adopts-international-swimming-pool-and-spa-code/
---