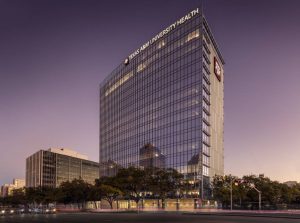 Texas A&M University's Intercollegiate School of Engineering Medicine (EnMed) building was recently renovated to accommodate the unique needs of its namesake program. The building is located in the heart of the Texas Medical Center.
Developed in partnership between the Texas A&M colleges of engineering and medicine and Houston Methodist Hospital, EnMed is an integrated medical and engineering option for medical school that focuses on innovation and entrepreneurship. Students simultaneously earn their doctor of medicine and master of engineering in four years. In addition to coursework, they must identify a need in the medical industry and complete an innovative engineering project to satisfy that need—taking their invention from concept to prototype.
EYP handled architectural design for this project. Serving EnMed's engineering curricula is a 230-m2 (2471-sf) makerspace, with reconfigurable tables, 3D printers, and a convenient machine shop. Students can use the 3D modeling and virtual creation tools in the VR and AR simulation rooms. A floor-to-ceiling glass partition system provides clear views of the innovation happening inside. Embedded in the glass is one of the original bank vault doors, a "vault of ideas" bridging the building's past and future.
For the healthcare side, the medical education simulation center offers students skills-based training. The simulation suite provides a hospital environment complete with beds, mock headwalls, and integrated teaching space.
The building also boasts a cafe, a 240-seat auditorium, conference spaces, and support areas. The facility's crown jewel is the 17th floor board room and multifunction space, designed to attract students, faculty, and donors.