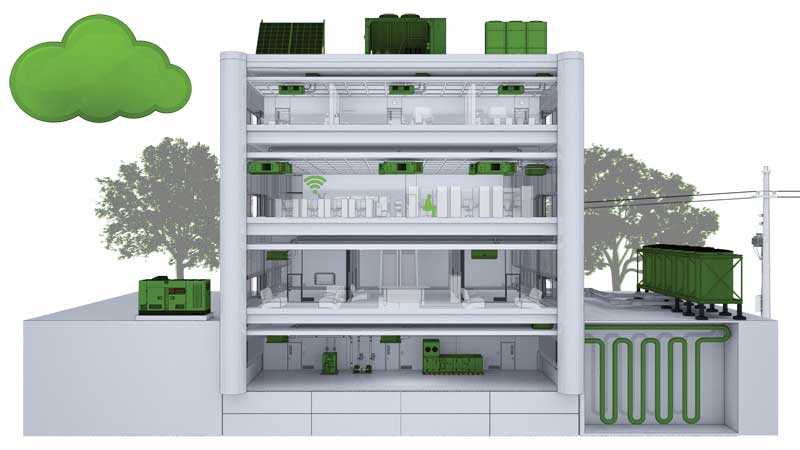 by Neil Maldeis
Connected buildings, the Internet of Things (IoT), and smart devices are buzzwords in the industry. But do building owners and facility managers have a true understanding of what a connected building is and the benefits it can provide?
Connected devices (e.g. lighting, security systems, and HVAC equipment) produce data that can be captured and applied to significantly increase energy savings and operational efficiencies for modern buildings. Technological advances and the ability to turn building system data into useable information also enable a more sophisticated approach to service and maintenance. Data can be gathered from one piece of equipment or from dozens, so it is possible to start small.
The bottom line is about the outcomes that matter to building owners and facility managers. Whether the goal is energy efficiency, cost savings, or improved occupant comfort—a connected building can help owners and facility managers achieve these objectives.
Plans for a connected building should be incorporated during the design process for new facilities. Connected systems can also be considered for infrastructure improvements to existing facilities during major renovation projects or as a standalone retrofit project. Advances in technology have made connecting a facility easier than before with many pieces of building equipment being able to communicate directly through a connection to the Internet. Wireless technology has also made physical connections to equipment easier as hard wiring is not required. Overall improvements in manufacturing have driven the cost down significantly on sensors and other required hardware, making the return on investment more attractive than ever.
Building connectivity does not have to be an all or nothing approach. Starting with one piece of equipment and implementing other devices in stages is possible, and can make it easier to take the first step.
While most equipment is easier to install during new construction, there are many products designed for installation in existing buildings. Wireless communication products can be added to equipment to create connectivity, meaning equipment does not need to have built-in capability to connect to the Internet.