by Abby Feinstein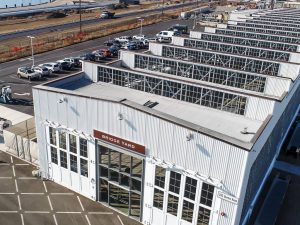 Facing labor shortages and the need to maximize profit, commercial roofing contractors have had to find new ways to move efficiently from one project to the next. While industry-valued as durable protection, traditional bituminous low-slope roofing installation methods utilizing mopped asphalt or torch welding come with application constraints and safety considerations. These can increase time spent on a jobsite and create challenges for workers, resulting in higher contractor insurance costs. Traditional installation methods can also generate fumes, causing discomfort for clients.
Evolving with market demands, self-adhered modified bitumen (mod-bit) systems offer roofing contractors a clean and quick alternative to those installed by traditional methods. When installed properly, self-adhered systems can deliver the protection of those applied with hot asphalt or cold adhesive for a fraction of the workforce training, labor, or time—all without the mess, fumes, hassle, or additional safety risks. This makes it a suitable choice for roofing projects involving offices, restaurants, schools, hospitals, hotels, care facilities, and multifamily structures, where client comfort is paramount. Available with a variety of base sheet options and with benefits such as impact and uplift resistance, fire retardance, and cool roof surfacing options—self-adhered products are versatile enough to accommodate nearly any low-slope roofing project.
Considerations before installation
Every professional roofing contractor is familiar with the general tools needed to complete a low-slope roof installation. Self-adhered roofing does require a few specialized, yet easy-to-acquire tools, such as:
weighted roller for pressing the membrane into place;
suitable trowel for applying adhesive to flashing details (if not using a hot air welder); and
hot air welder to replace the trowel in cold weather (if manufacturer application instructions call for it).
As a rule of thumb, for residential applications, self-adhered roofing should only be applied on plywood decks—at least 12 mm (1/2 in.) thick—and oriented strand board (OSB) decks (minimum 11 mm [7/16 in.] thick), each with a minimum slope of 6 mm (15/64 in.). It is recommended an anchor sheet be mechanically attached to the wood deck prior to self-adhering a ply or cap layer.
Self-adhered versus TPO, single-ply roofing
Thermoplastic polyolefin (TPO) single-ply roofing systems have been on the market for more than half a century, so most commercial roofers are familiar with how TPO installs and performs. Self-adhered mod-bit roof systems, however, come with several advantages over TPO single-ply roofing systems. In the time TPO single-ply roofing membranes have been available, manufacturers have yet to systematically resolve cracking, erosion, and other performance concerns that can occur after installation. Self-adhered roof systems are installed in two or three layers, thereby reducing leak risk as compared to a single-layer installation. TPO single-ply roof systems range between 1 and 2 mm (40 and 80 mils) in thickness, while most self-adhered roof systems range from 5 to 10 mm (180 to 380 mils), making self-adhered systems less susceptible to puncture from foot traffic or minor installer mistakes (e.g. dropped tools). Mod-bit roof systems have performed up to and beyond the 20 to 30 year warranties (warranty durations are manufacturer and product dependent) without the erosion and weathering failures experienced by TPO.
Not all self-adhered products are made equal
While many modified bitumen manufacturers offer a self-adhered product line, material performance varies by brand in application speed, installation methods, and adhesive qualities. When selecting a self-adhering roofing product, contractors should ask the following:
how well does the product adhere to the roofing substrate;
how well does the cap sheet adhere to the base or interply layers;
can the adhesive withstand expansion and contraction stresses without delaminating, specifically at sidelaps, endlaps, and details;
how well does the product handle in cold weather;
does the product scuff or compress from foot traffic in hot weather;
how well are granules retained on the cap sheet;
does the release film remove quickly and easily during installation; and
is the product manufactured with consistent quality, per the considerations above?
Roofing is not a one-product-fits-all industry. Like any product, self-adhered mod-bits have limitations. Typically, they are deemed a 'no-go' for installation when the temperature drops below 4 C (40 F).
Some manufacturers, however, allow the use of a hot air welder along seams and details, permitting year-round installation in most climate zones. Some installers are less familiar with self-adhered roof covers than traditional TPO application, and roof system integrity issues can occur if the product is not installed according to the manufacturer's specifications. In extreme heat, self-adhered products can be challenging to handle, especially for an inexperienced contractor, as its tack increases with heat and can be unforgiving if initially misplaced.
Most self-adhered, low-slope, mod-bit roofing systems are warranted for 20 to 25 years, but if maintained properly (as with any roofing system) one can expect performance to exceed the warranty period. With the proper installation and maintenance, these systems can provide clients with a reliable, watertight, low-slope roof—all while minimizing disruption, keeping employees safe while working efficiently, and optimizing overall production and profit.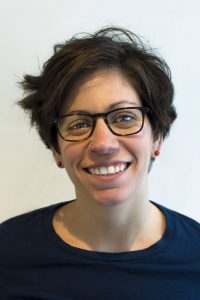 Abby Feinstein is product manager, commercial roofing, CertainTeed. She is responsible for aligning CertainTeed's low-slope product portfolio with market values and business strategy. Prior to joining CertainTeed, Feinstein helped start several businesses in the renewable energy and energy-efficiency sectors. She holds a bachelor's degree in industrial design from the University of the Arts, Philadelphia, Pennsylvania.