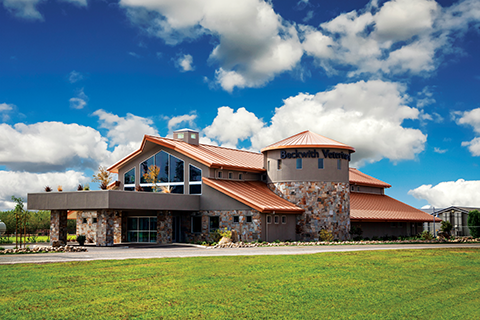 by Jeff Alexander
Recognized as sustainable, durable building components, metal roofs are used in various applications. The performance of the assembly's panels depends on the metal substrate, metallic layer, and exterior coating. These are critical to the panel's weather and corrosion resistance, color retention, and overall longevity.
Finished with the proper coating system, 'cool' metal roofs can also help reduce a building's carbon footprint, energy consumption, and cooling/heating loads. In addition to directly benefiting the building owners and occupants, these roofs also assist in benefiting the surrounding community by mitigating the urban heat island effect.
Metal roofing substrates
Metal roofs can last longer than most non-metal roofing products. Their materials contain recycled content and are 100 percent recyclable at the end of their useful life. Metal roofs can be designed to withstand extreme weather conditions and are more fire-resistant than other roofing materials such as wood or asphalt. A metal roof can be one-eighth the weight of other roofing products, placing a lighter load on the structure and foundation and extending the life of the entire building. The lightweight system also makes them easier to transport and install, further saving on time, as well as financial and environmental costs.
Steel and aluminum are both used in the manufacture of metal roofs, with the former being the most common. In weight, pound for pound, steel is economical metal roofing. Steel's strength and durability throughout its service life, as well as its lifecycle cost, make it an attractive investment. Steel and aluminum are amongst the most recycled materials in the world with more than 50 percent of steel supply in the United States and 40 percent of the aluminum supply in North America being produced through recycled sources.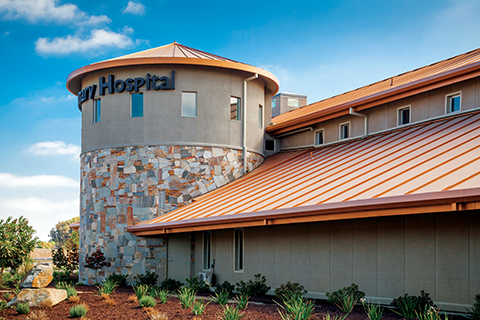 Corrosion can affect the structural integrity and durability of roof metals and alloys. Localized corrosion can lead to pitting, cracking, and eventual fractures, causing leakage or more serious failure of building components. The metal roofing substrate can be protected from corrosion with one of two types of protective metallic coatings: sacrificial and/or barrier protection.
Sacrificial protection involves having a protective metallic coating that gets attacked by corrosion, instead of the steel. Eventually, this sacrificial coating will be completely corroded away, leaving the bare steel to rust. Barrier protection is intended to repel the corrosive media. There is little attack by the corrosive media on the barrier-type coating.
Galvanized coatings are metallic coatings most popularly used to protect metal roofs from corrosive media. This type of coating is a zinc-based metal covering that comes in either G60 or G90 of zinc of the total area covered and is a sacrificial coating.
Coatings containing a five percent aluminum-zinc alloy also serve as a sacrificial coating. Another type of coating is an aluminum-zinc alloy composed of 55 percent aluminum to 
45 percent zinc; it is produced in either AZ50 or AZ55 coating weights. This 55/45 percent aluminum-zinc alloy coating functions both 
as a sacrificial and a barrier coating, with its zinc providing protection on exposed edges or scratches and its aluminum providing a barrier to corrosive media.
Exterior coatings
Exterior coatings further enhance a metal roof's aesthetic and performance characteristics. To ensure uniform gloss, color, and thickness, a coil-coat process is the preferred application method for metal roofing. Using this method, the rolls of metal are painted prior to them being shaped into the roof panels. These pre-painted sheets of steel or aluminum can be cut, slit-formed, corrugated, profiled, and molded into shingles, shakes, curves, and various shapes for distinctive architectural designs.
Exterior coatings for metal roofs are composed of four main elements: resin, pigment, solvents, and additives. The pigment particles are suspended within the resin, and the mixture is then reduced to a liquid form, providing an easy application to a metal surface.
The resins primary function in a paint formulation is to bind together all the components within the coating. It is the primary source for a coating's durability and physical properties. Resin increases the physical strength and chemical resistance of the coating film, and allows the chemical reaction of the curing process.