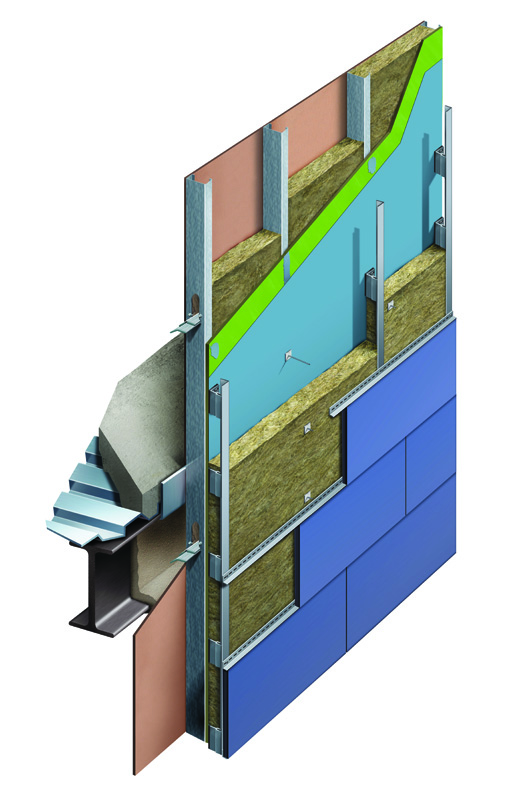 Behind open-joint rainscreens, air and water barriers (AWBs) provide the last line of defense against water ingress. There are a number of industry standards to help designers evaluate the water holdout capabilities of an AWB, but not all AWB manufacturers test all their products to each standard.
AWB standards include:
International Code Council Evaluation Service (ICC-ES) Acceptance Criteria (AC) 38, Acceptance Criteria for Water-resistive Barriers (Sheet Membranes), which includes:
American Association of Textile Chemists and Colorists (AATCC) 127, Water Resistance: Hydrostatic Pressure Test; and
ASTM D779, Standard Test Method for Determining the Water Vapor Resistance of Sheet Materials in Contact with Liquid Water by the Dry Indicator Method; and
ICC-ES AC 212, Acceptance Criteria for Water-resistive Coatings Used as Water-resistive Barriers on Exterior Sheathing.
An additional ASTM standard (ASTM WK 41724, Standard Practice for Assessing the Durability of Fluid-applied Air and Water-resistive Barriers) to evaluate the durability of fluid-applied air barriers is under development. As part of this new standard, the committee will also examine the water resistance of such barriers. The committee's goal is to provide common ground on which the industry can evaluate fluid-applied air barriers. (This Work Item, under ASTM Committee E06, was to be balloted in July 2017. Check www.astm.org for more details.)
Once an AWB is installed, there are two other standards building envelope consultants sometimes use to further evaluate the AWB's water resistivity:
ASTM E331-00 (2016), Standard Test Method for Water Penetration of Exterior Windows, Skylights, Doors, and Curtain Walls by Uniform Static Air Pressure Difference; and
American Architectural Manufacturers Association (AAMA) 501.2, Quality Assurance and Diagnostic Water Leakage Field Check of Installed Storefronts, Curtain Walls, and Sloped Glazing Systems.
ASTM E331 is a 15-minute lab test (the field test version is ASTM E1105, Standard Test Method for Field Determination of Water Penetration of Installed Exterior Windows, Skylights, Doors, and Curtain Walls, by Uniform or Cyclic Static Air Pressure Difference). Its calibrated spray nozzles serve to replicate wind-driven rain moving at 3.4 L/m2/minute (5 gal/sf/hour); equivalent to 200 mm (8 in.) per hour. The test can be under positive pressure (i.e. chamber outside drawing air inward) or negative pressure (i.e. chamber inside drawing outside air).
In AAMA 501.2, handheld spray nozzle testing is set at 205 to 240 kPa (30 to 35 psi); there is a distance of 305 mm (12 in.) for five minutes for each 1.5 m (5 ft) of joint. This test is best-suited for surface-sealed assemblies of non-operable fenestration.
To evaluate the performance of rainscreens, AAMA has also established AAMA 508, Voluntary Test Method and Specification for Pressure-equalized Rainscreen Wall Cladding Systems, and AAMA 509, Voluntary Test and Classification Method of Drained and Back-ventilated Rainscreen Wall Cladding Systems.
For these AAMA standards, designers should pay special attention to the amount of water allowed to get into these rainscreen systems while still being considered 'passing.' Under AAMA 508, if water mist or droplets are greater than five percent of the AWB surface, it is considered a failing system. Under AAMA 509, water is expected to reach the WRB, so the pass/fail measure is whether the system is capable of venting and drying over time.
Designers should also consider the cladding attachment system and its location relative to the ci, as this influences the choice and thickness of the AWB. When the cladding attachment system is outboard of the ci, the fasteners that hold the cladding support brackets will penetrate the ci and the AWB without compressing the AWB. In such cases, an AWB that is an adhesive-backed sheet membrane offers a robust solution, as the adhesive clings to the fastener shank, helping seal the penetration.
If the cladding support system is fastened directly through the AWB and then into the exterior sheathing before going into the structural support, either an adhesive-backed sheet membrane or a full-bodied (approximately 1 mm [40 mils] dry film thickness [DFT]) fluid-applied material performs well.