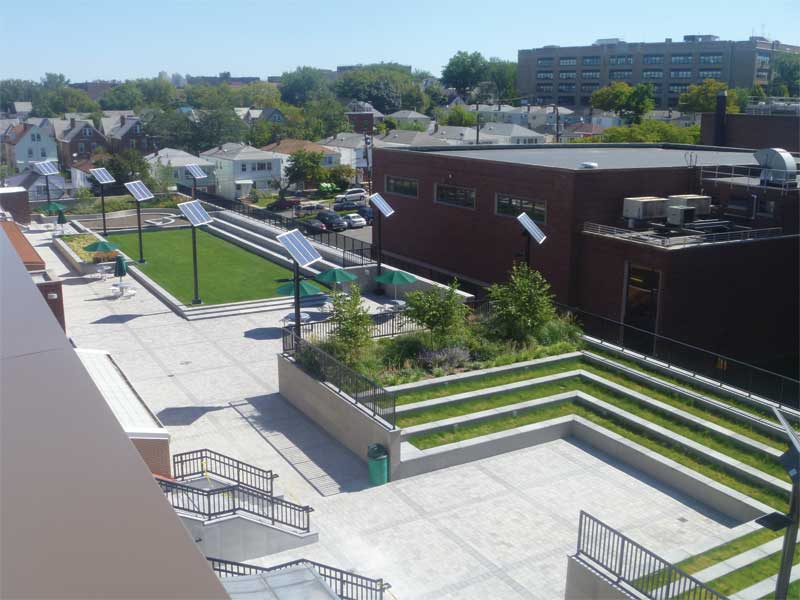 by Lawrence E. Keenan, AIA, PE
By adding functional space to 
the building exterior, plazas provide inviting areas that extend building use throughout the day and evening. As the needs of the owner and occupants change, plaza rehabilitation can incorporate new amenities and landscape elements to adapt to building use, with site features anticipating and responding to the demands of management and tenants. In some cases, owners looking to maximize the value of their plazas may choose to undertake a major reconfiguration, incorporating amenities that create a striking appearance and improve functionality.
Plazas are often public spaces, and they form a significant part of the building's visual impact. Landmark buildings and well-trafficked thoroughfares need to respond not only to the demands of occupants, but also to the larger interests of the community. 
A plaza restoration must therefore consider the 
historic significance of the design, if applicable, along with the functional requirements of the space, maintenance demands on building staff, cost, and longevity of the materials and systems selected. With the right balance of sensitivity to surrounding structures and consideration for public use, the 
prudent owner can achieve a plaza rehabilitation 
as eye-catching as it is practical.
Restoring a landmark plaza
Preservation, restoration, rehabilitation, or renovation: depending on the design intent, plaza projects fall within one of these categories. The choice of how 
to approach a plaza overhaul affects the scope, construction, use, and cost of the project, so it 
is important to identify the limitations and opportunities inherent in each of these strategies. For a plaza with historic or landmark status, proper stewardship may dictate preservation, and, if necessary, restoration to promote the longevity 
of what is likely an important community asset.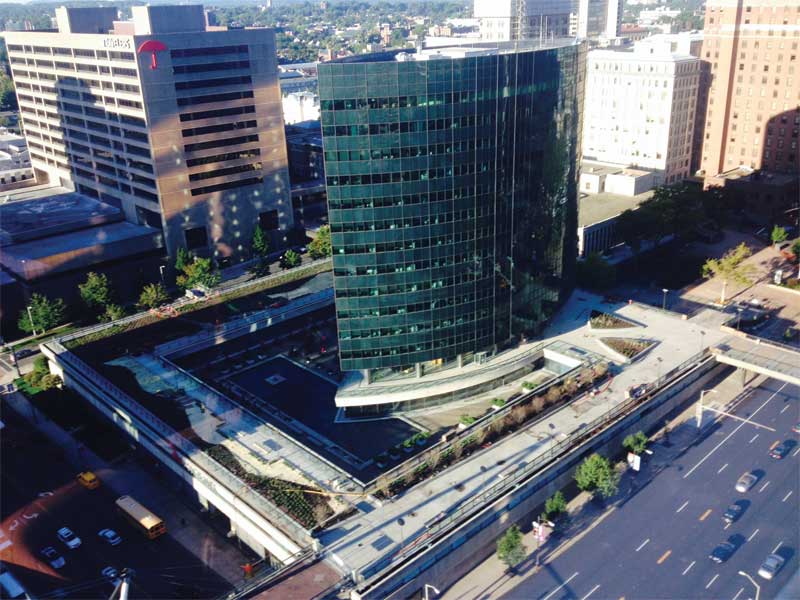 According to the Secretary of the Interior's Standards for the Treatment of Historic Properties, "preservation" is the process of sustaining the form, integrity, and materials defining the overall historic character of a property. This may include elements such as walkways and paths, lighting, vegetation, and water features. "Restoration" builds on this idea by reconstructing missing historic features and removing those elements that are historically inaccurate or were added at a later time. The scope of such projects is generally dictated by the plaza condition—extensively deteriorated elements are afforded isolated replacement, while the plaza is preserved and protected as a whole.
Strict adherence to the tenets of preservation and restoration, however, often gives way to the realities of modern life. Compromises may need to be made to accommodate code compliance, current design standards, and the wellbeing of the public.
The ability of a historic plaza to meet the needs of its users safely and effectively must be considered. 
A plaza is a prominent feature that can serve as the main entrance to a building, as a courtyard linking one building to the next, or as a destination in and of itself. In all these cases, it must be designed to accommodate the movement of people. As such, safety and liability are important considerations for any property owner. Modernization of certain elements is therefore unavoidable, particularly where accessibility is concerned. Older structures frequently lack the most basic of accessibility provisions. Most notably, ramps are generally absent from older plazas and must be constructed as a counterpoint 
to the original stairs. Without artful detailing and placement, adding ramps—large and prominently located structures—can adversely impact the character of an existing plaza.
Other concerns for historic and landmark plaza restoration include availability of original materials, slip resistance, waterproofing and drainage design, and energy performance and illumination output of existing lighting units.