Aesthetics and performance
Whether restoring a landmark plaza to its original grandeur or reconfiguring an outdated design to meet changing needs, a plaza project presents an opportunity to make a statement. The experience of plaza users acts as a prelude to their encounter with adjacent buildings, and the features and ambiance of the plaza should complement the character of the facility, while responding to the needs of occupants and the larger community.
By providing accessible, convenient ramps, stairs, and passageways, the owner underscores a commitment to civic responsibility, while safe and code-compliant pedestrian traffic management brings peace of mind. Beyond the basics, landscape features like vegetated roof areas, planters, and fountains add interest and encourage appropriate use of plaza spaces.
An attractive plaza is a valuable amenity—one acting as a showpiece for the building. With the right design approach and attention to detail, a well-planned plaza project can create a functional and appealing space that provides dependable performance well into the future.
SEVEN TIPS FOR FOUNTAINS AND PLANTERS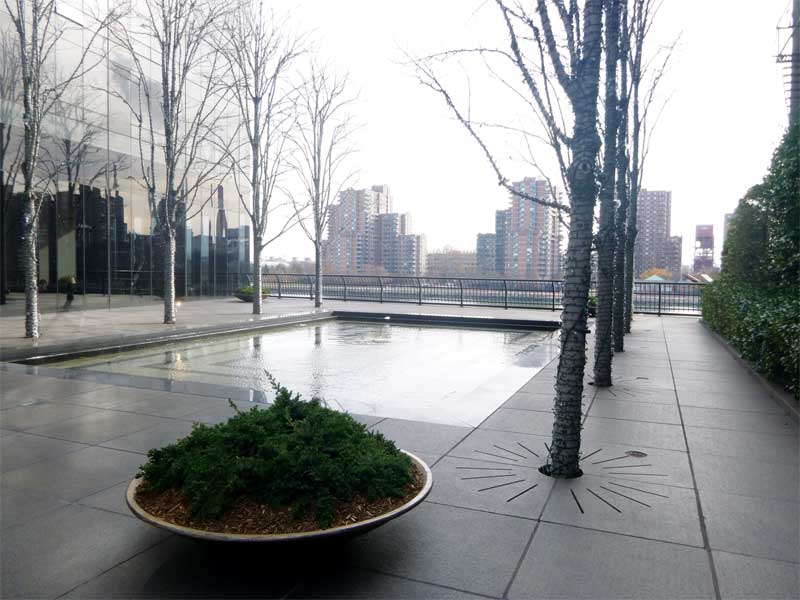 1. Protect planter waterproofing with a concrete or masonry lining where frequent planting replacement is anticipated.
2. Position fountain drains so that they are readily accessible to maintenance personnel.
3. Place electrical outlets and panels in a convenient location, where maintenance staff will not need to trudge through plantings or stretch around barriers to reach them.
4. Include appropriate fall protection for maintenance activity. Planters at the edges of an elevated plaza may look nice, but if safety harness tie-ins and other provisions are not included in the design, the beds will not be maintained—or they will require the added expense of rental equipment.
5. Consider the location of plaza features relative to areas below. Fountains and planting beds should not be positioned above mechanical or electrical rooms, and drain cleanouts should not be located in occupied spaces.
6. Mark pavers over elements that will need to be accessed by using a discreet, water-jetted symbol to ensure that they are easily identified by maintenance personnel.
7. Locate planters and fountains away from expansion joints. An expansion joint crossing through a planter or fountain not only is apt to leak, but also makes maintenance and upkeep even more complicated.
Lawrence E. Keenan, AIA, PE, is vice president and director of engineering with Hoffmann Architects Inc., an architecture and engineering firm specializing in the rehabilitation of building exteriors. As manager of technical staff in the firm's Connecticut office, he develops plaza solutions that range from historic preservation to vegetated roof engineering, with rehabilitation designs that consider form, function, and sustainability. With two U.S. patents for precast concrete connections, Keenan holds a degree in civil engineering from the University of Connecticut and is both a professional engineer and a registered architect. He is president of the Connecticut chapter of the International Concrete Repair Institute (ICRI), and is active in the Precast/Prestressed Concrete Institute (PCI), the Structural Engineers' Coalition (SEC), and the American Institute of Steel Construction (AISC). He may be reached at l.keenan@hoffarch.com.