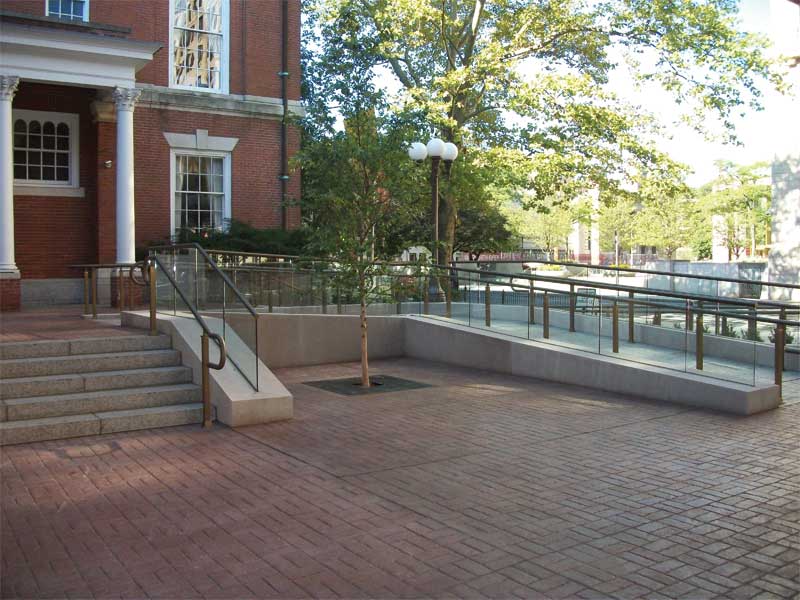 Responding to code requirements
A review of even a relatively young plaza can reveal an array of deficiencies with respect to current building codes and design standards. For instance, walking surfaces need to be slip-resistant with minimal slope (though some slope is important for drainage), stairs require code-compliant handrails, and changes in level demand appropriate guardrails. Accordingly, paving systems, lighting, railings, and stairs are among elements commonly improved through rehabilitation—they are next on the list of plaza strategies.
Rehabilitation can improve and enhance a plaza through repair, alterations, and additions, while preserving those portions or features conveying cultural and architectural value. Rehabilitating select elements provides the owner latitude to upgrade features of the plaza affecting safety, accessibility, durability, upkeep, and cost while maintaining—or enhancing—utility and architectural appeal.
Redefining the plaza space
Why limit the scope to repair or compliance-oriented upgrades? A plaza is an important asset and provides a clean canvas on which to compose a seemingly endless array of possibilities. Through renovation, a plaza can be transformed into a vibrant community center or an intimate outdoor living room. It can provide program space for events or an efficient and attractive pedestrian traffic route; it can serve as an open park or a formal grove. Ultimately, plaza renovation provides an opportunity to increase both the stature of the property within the community and the value of the property to the owner.
Renovation projects begin with identification of program requirements. How will the space be used? Will it be public or private? What type of image is being portrayed? What level of maintenance is acceptable? What is the budget? These are just some of the considerations that must be examined to realize a plaza's full potential.
Program space, or plaza areas serving specific functions, should be considered early, such that planned activity forms a seamless and integral part of the plaza design. Program space can be used for public gatherings ranging from 'Taste of the City'-type dining and announcements to fundraisers, ceremonies, performances, assemblies, or any number of events, whether intimate or sizable. Visibility from the street, access, lighting, electrical outlets, audiovisual connections, tent tie-downs, 
and even provision for discretely located port-o-lets are assets during large events and major oversights when omitted.
When configuring plaza areas and selecting plantings and lighting, the design professional should consider shade, sunlight, and the plaza's location relative to the building, all of which affect the climate of the space. To manage pedestrian traffic, arrangement of planters, permanent seating, and other hardscape and landscape features can be used to encourage movement from one area to the next, creating inviting spaces for people to congregate as well as corridors for passage. Seating can also be removable to respond to changing functional requirements and accommodate special events.
Lighting extends the use of the plaza into evening, when illumination is necessary for safety and security. Low-radiance, low-angle light fixtures may be selected to limit light pollution, where feasible.
Plaza renovation also affords the chance to reconfigure the space to reduce maintenance demands. With fewer large, featureless pavement areas, a well-designed plaza can minimize the work of snow removal and the liability of slippery surfaces.
REHABILITATION DESIGN CONSIDERATIONS
Rehabilitation presents an occasion for improvements. The following is a list of common features or elements typically considered as part of a plaza project, with design considerations for each:
accessibility—ramps, railings, handrails, and tactile paving;
cost—construction, operating, maintenance, and life cycle;
drainage—reduced puddles/ice;
insulation—lower utility costs and condensation;
materials—condition, durability, maintenance, slip resistance, and cost;
nuisance—skateboard deterrents and bird control;
plantings—maintenance, irrigation, and leaf removal;
security—lighting, cameras, and fencing;
snow/ice treatment—chemical, hydronic/electric heat, and snow storage or disposal;
stairs—code requirements and handrails;
sustainability—materials, operations, embodied energy, durable design, and longevity; and

waterproofing—membranes, subsurface drainage, and leak detection/vector mapping.