by Mark Lawinger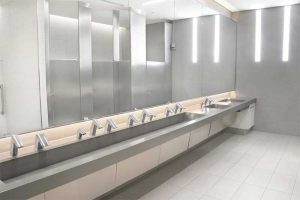 The COVID-19 pandemic is creating a new normal across all walks of life. The reality is certain elements of society and infrastructure will forever be changed due to the measures that have come along with the virus—increased levels of sanitation, minimized hand-to-hand contact, and the rise of work from home culture, to name a few. The commercial restroom is no exception to these overhauls.
Users now expect touch-free restroom products, as improved hygiene is first and foremost on the hearts and minds of people all across the world. In fact, as one of the most visited places in any commercial building, the restroom is playing a leading role in mitigating the spread of viruses, bacteria, and other germs.
There was already a movement toward specifying sensor-operated restroom products even before COVID-19 and social distancing entered our vocabulary, but the hazardous effects of cross-contamination on products in public spaces have only amplified the need for these automatic fixtures. Germs spread after they have been left on a surface and are then touched by a healthy person. When one takes into account the fact thousands of users go in and out of public restrooms each day, 'high-touch' faucet and flushometer handles can be breeding grounds for bacteria.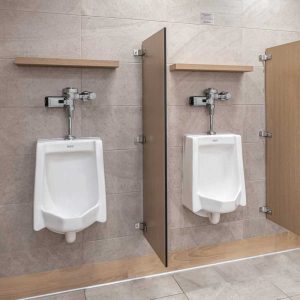 To combat these concerns, touch-free products—from motion-activated door sensors and light switches to touch-free faucets and flushometers—are being installed across all areas of the commercial restroom. However, it is important to understand which sensor-activated products are most conducive to specific environments. Additionally, as more facilities scramble to convert their existing restrooms from manual to touch-free operation, it is critical to understand the retrofit process and what it entails.
The perks of touch-free faucets
Consistent handwashing is one of the best ways to remove germs, avoid getting sick, and prevent the spread of germs to others.
However, it is important to conduct the handwashing process correctly, following the Centers for Disease Control and Prevention (CDC) guidelines. It also goes a long way if the faucet does not need to be touched.
Hence, sensor-operated faucets are critical to mitigating cross-contamination in the restroom. In fact, automatic faucets are literally guiding users through the handwashing process by providing step-by-step instructions via liquid crystal display (LCD) screens. These faucets are popular in healthcare facilities and walk the user through an initial rinse, a soap and scrub process, and an additional rinse by providing a countdown for each step. This information can also be stored to provide healthcare facilities with actionable information on handwashing statistics right down to the specific faucet to determine compliance with CDC guidelines.
Maintenance teams across the world are also able to enjoy the perks of automatic faucet shutoff by simply twisting the solenoid on many models, and no special tools are required to access or change components. Typically, maintenance personnel must lie down on the floor or stoop underneath the sink to turn off the water supply valve. It is more convenient to turn it off at the faucet, and saves time (and knees and backs).