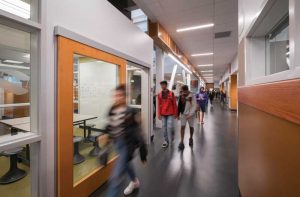 By Tysen Gannon, LEED AP
In the early 2000s, tech giants like Google reimagined the modern workplace. To set themselves apart and attract talent in a competitive marketplace, they teamed up with architects and specifiers to bring the aesthetics of home into the office. With an eye on amenities catering to comfort, novelty, and visual appeal, modern commercial designers helped inspire a new generation of workers to be their most productive selves. Layouts also reflected this revolutionary concept, favoring open-plan environments with small, private office spaces and collaboration rooms.
Against this backdrop, interior sliding doors—commonly used in homes to provide a seamless transition between rooms—began to appear in office settings. Bringing the sleek, slim, and stylish sliding doors into the workplace made sense from both a design and space-efficiency standpoint. Traditional swing doors can eat up valuable real estate in frequently used areas such as office rooms and collaborative workspaces. Sliding doors, on the other hand, glide along or in the wall to preserve space while adding a contemporary aesthetic. They can accommodate a variety of space types from collaborative to personal to meet the needs of the hybrid workforce.
Opening up sliding door offerings beyond the office
While interior sliding doors sidestepped spatial challenges in those early office settings by allowing up to 3 m2 (30 sf) of additional usable room, architects remained hesitant to specify them in other commercial applications. The doors' functionality needed to grow to address 21st-century acoustic requirements, accessibility, physical security, and fire- and life-safety challenges. Fortunately, advances in technology have helped today's offerings overcome such obstacles, bringing high-performance sliding doors into municipalities, universities, K-12 schools, and hospitals and clinics, and beyond. A lean and flexible solution, they can introduce operational and functional efficiencies into new builds, adaptive re-use projects with existing space constraints, and interiors requiring conversion between public and private areas.
Solving functionality challenges
To better understand how far interior sliding door systems have come, the following are common functionality hurdles toady's advanced offerings have cleared.
Challenge #1: Creating a tight perimeter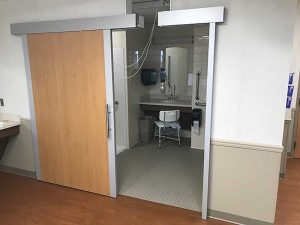 For healthcare and education sectors, federal law protects patient and student privacy with the Health Insurance Portability and Accountability Act (HIPAA) and the Family Educational Rights and Privacy Act (FERPA), respectively. With the first, the HIPAA "Privacy Rule," (45 CFR Part 160) "requires appropriate safeguards to protect the privacy of personal health information, and sets limits and conditions on the uses and disclosures that may be made of such information without patient authorization."1 FERPA applies to those in learning environments, and safeguards students' educational records.2 While this act applies most directly to the physical security of records, schools may wish to reduce the chances of information being disclosed as a result of students or others overhearing sensitive staff conversations. Beyond code and guideline requirements, these are spaces where occupant comfort, productivity and happiness is highly impacted by acoustics.
In settings where it is necessary to design for privacy or adhere to codified laws, architects and specifiers consider a space's structure and the materials used to block and absorb noise. In this vein, many professionals give doors and openings special attention. They serve as natural weak links when it comes to sound attenuation. Compared with the surrounding wall, doors are thinner, lack multiple layers, and prone to gaps, all of which can lead to excessive noise transfer. For years, commercial interior sliding door systems offered little in the way of rectifying this problem due to challenges sealing all four sides of the door leaf. Fortunately, this is now a problem of the past, as modern products employ new sealing methods to ensure a tight perimeter.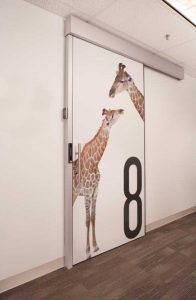 Next-generation commercial sliding door systems are now available with acoustic jamb gaskets designed in to perimeter frames to combat leaky gaps between the wall or frame and door. Well-designed compressible, yet cleanable gaskets provide an important line of defense. This design helps close air gaps and decreases the likelihood of interior noise escaping. Today's more advanced interior sliding door systems are also available with drop-down bottom seals, which adjust to cover the door's bottom gap and form an important additional acoustical barrier.
Doors with both drop-down bottom seals and acoustic jamb gaskets can effectively seal all four sides of an interior slider when set in the closed position. This makes it possible to achieve suitable noise isolation class (NIC) values. NIC is targeted to partitions and takes into account the entire closure, so it works well for evaluating operable walls and doors in the field.3 Modern options offer NIC values up to 39. As such, the addition of acoustic sliding doors can reduce a noisy office generating 79 decibels (dB) of sound to 40 dB in the adjacent room. This further complies with the Facility Guidelines Institute's STC 35 target for speech privacy in health care exam rooms, broadening out the commercial possibilities for contemporary sliding doors. Indeed, more professionals are finding sliding doors can now meet or exceed acoustical performance needs for stringent environments. Interestingly, these same assemblies also perform well on tests of air leakage (as measured by UL 1784 Standard Test for Air Leakage of Door Assemblies). Once the doors have been designed for good acoustic benefits, there are other performance advantages as well, as discussed in the following sections.