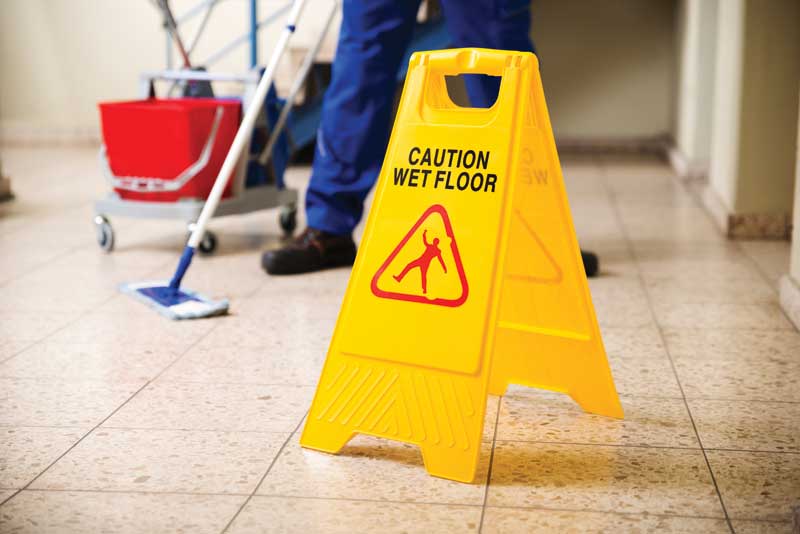 by George Sotter, PE, PhD, and John C. Sotter
Specifying flooring that will not be slippery even when it can get wet or otherwise lubricated in use is critical for safety purposes. The 2012 International Building Code (IBC) lays out slip resistance, but there are weaknesses with the requirements—not least of all in that it places a burden on flooring specifiers in particular. Design professionals must be able to justify using a specific flooring under various circumstances (e.g. lobby, restroom, swimming pool deck, and commercial kitchen), and understand how to use flooring that does not meet IBC's wet slip resistance requirement.
For decades, it was widely believed the Americans with Disabilities Act (ADA) required a static coefficient of friction (dry or wet as applicable) of 0.60 or higher for level floors and 0.80 for ramps. In fact, this was never true, and the Access Board of the U.S. Department of Justice has disavowed any responsibility for this custom. (For more, see the letter by David Capozzi [United States Access Board] to J.G. Sotter, dated May 17, 2011). The previously used test method, ASTM C1028, Standard Test Method for Determining the Static Coefficient of Friction of Ceramic Tile and Other Like Surfaces by the Horizontal Dynamometer Pull-meter Method, was withdrawn in 2014 with no replacement. The worst part of ASTM C1028 was it sometimes gave very high slip resistance ratings for floors that were very slippery when wet. Consequently, the poor test method and its misleading results were likely the cause of many accidents and hundreds of millions of dollars expended on flooring inappropriate for its intended use.
The 2012 IBC (in effect in most states at this writing), Section "2103.6−Ceramic tile," states:
Ceramic tile shall be as defined in, and shall conform to the requirements of, ANSI A137.1.
This is all it says about the subject. However, there is no indication other flooring—such as granite, vinyl, marble, or wood—should have any different slip resistance requirement from that of ceramic tile. Simply put, we do not change our shoes when we step from tile onto marble, so many in the industry assume the same test and safety standard applies to all types of indoor flooring.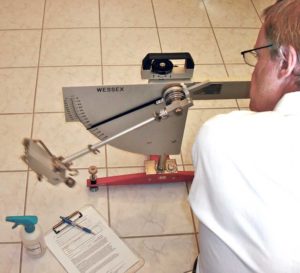 ANSI A137.1
Coefficient of friction (COF) describes the ratio (F/W) between the force necessary to cause an object to slide across a surface and the weight of the object. When the object begins at rest, the ratio is the static coefficient of friction. When the object is already in motion, it is the dynamic COF (DCOF). Static friction applies to pedestrians who are standing still.
In 2014, American National Standards Institute (ANSI) A137.1, American National Standard Specifications for Ceramic Tile, was revised to read:
[DCOF] does not predict the likelihood a person will or will not slip on a tile surface … tiles suitable for level interior spaces expected to be walked upon when wet shall have a wet DCOF of 0.42 or greater when tested using SLS [wetting agent] solution as per [BOT-3000E tribometer procedure].
Tiles with a DCOF of 0.42 or greater are not necessarily suitable for all projects. The specifier shall determine tiles appropriate for specific project conditions, considering by way of example, but not in limitation, type of use, traffic, expected contaminants, expected maintenance, expected wear, and manufacturers' guidelines and recommendations [emphasis added].
The latter is normally nowhere to be found, as most manufacturers do not want a suggestion of liability. The IBC, by reference to ANSI A137.1, puts the burden of responsibility for slip safety on "the specifier."
The Tile Council of North America (TCNA) made major contributions to ANSI A137.1. Among these, is the addition of the possibility a slip may also be affected by:
The material of the shoe sole and its degree of wear, the speed and length of stride at the time of a slip, the physical and mental condition of the individual at the time of a slip, whether the floor is flat or inclined, how the surface is used, how the tile is structured, and how drainage takes place if liquids are involved. (See Katelyn Simpson's article for the Tile Council of North America [TCNA], "Coefficient of Friction: New Method, New Requirements—Introducing the DCOF AcuTest.").