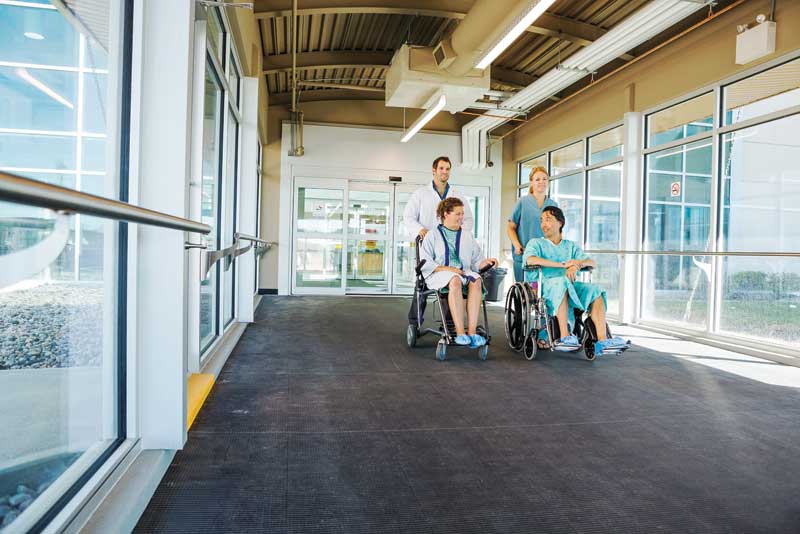 Outdoor surfaces
At present, IBC lacks a specific slip resistance requirement for outdoor surfaces. However, this does not mean there is no problem. In fact, outdoor surfaces should meet a higher standard because people are conditioned to believe they can run when outdoors—especially when it starts to rain or hail. Sidewalks and roads are normally slip-resistant when wet. Someone who would not think of running on a polished marble indoor floor might not hesitate to run on an outdoor tile surface. Just because it is not glossy does not mean it is not slippery.
The Australian standards can be very helpful for outdoor situations. Generally, a wet PTV of at least 35 is required, and for a ramp with slope steeper than 1 in 14 (i.e. 4.1 degrees), a wet PTV of 55 or higher (tested with a hard rubber slider) is required.
The ANSI A137.1 slip resistance test is unsuitable for outdoor surfaces because the BOT-3000E instrument used is low in speed, and does not simulate someone walking fast or running. The pendulum test is more suitable.
Good safety engineering practice involves designing to prevent hazards to the extent feasible. It is not good practice to create a hazard, and then post warning signs. For one thing, such signs are not always noticed; for another, they give the pedestrian a Hobson's choice—should she try to negotiate the hazardous area to get to work, or go back home and return to work when it is not raining?
Maintaining slip-resistant flooring
The architect or specifier is generally not responsible for ensuring the flooring is properly maintained. Nevertheless, they might be among those blamed for a slip and fall if the carefully chosen flooring is poorly maintained so it loses its wet slip resistance. Would you recommend using a broom and dustpan for routine cleaning of carpet? Most people opt for a vacuum cleaner instead, because it takes the soil away instead of mainly spreading it around. Hard flooring is often cleaned using a dirty mop and dirty water. This is analogous to cleaning a carpet with a broom and dustpan. The best way to clean hard flooring is to use an autoscrubber. The machine lays down the detergent solution, scrubs with a pad or brush, and uses a double squeegee with vacuum to pick up the dirty water.
Pads for autoscrubbers are color-coded, with anything other than white indicating abrasiveness. Abrasive pads must not be used if a floor is to retain good wet slip resistance. Even better than using a white pad is to use a very soft brush, like a carpet brush. Brushes have a higher initial cost, but last much longer than a pad; further, they will not shear off the small, sharp asperities on the floor surface that give the floor good wet slip resistance. Most autoscrubber pads used for general cleaning tend to polish the floor, making it smoother and more slippery when wet, whereas a soft brush will 'tickle' dirt out of grout joints and low points within the flooring to clean more effectively than a pad.
Monitoring slip resistance
Slip resistance can change with time due to wear or inappropriate maintenance. It is beneficial for many large property owners to have slip resistance monitored periodically—quarterly for high-traffic areas, and perhaps annually for less busy areas. Testing should be both dry and wet, if the floor can get wet in use.
Having written proof a routine testing plan is followed, and that any problems discovered are promptly rectified, both prevents accidents and attention from plaintiff attorneys. An accident on a dry floor may have been due to the pedestrian's footwear having poor traction, but this does not stop the injured pedestrian from potentially suing the property owner and everyone else connected to it. A slip-resistance monitoring program can help prevent losses from frivolous lawsuits.
Conclusion
By incorporating ANSI A137.1, the 2012 IBC explicitly puts responsibility for floor slip resistance in the hands of the Specifier. It sets a rather low bar for minimum wet DCOF, but points out meeting the minimum dynamic coefficient of friction requirement is not enough—numerous other factors must be considered. (Specifiers should make sure their insurance covers this added risk.) However, using the methods discussed in this article can help avoid accidents and build a strong defense against litigation.
KEEPING SLIPPERY FLOORS DRY
Most flooring, even if smooth and glossy, is slip-resistant when dry (to footwear having reasonable traction potential, anyway). Not all floors need be safe when wet—those slipperier surfaces can be used in places where the floor will be kept dry.
Here are some precautions to ensure a floor stays dry in use:
Have an overhang outside so people walk on a dry floor before entering the building.

Have at least 3.7 m (12 ft) of absorbent mats (more if traffic is heavy) inside the door to dry footwear bottoms. Velvet ropes may be needed to keep people on the mat if it is straight and narrow.

Provide umbrella bag stands inside the doors so umbrellas will not be dripping on the floor.

Use oil-free dust mops or other methods to pick up water from dripping raincoats, briefcases, etc.

Conduct and document frequent surveillance for spills and tracked-in water, snow, or ice. cs
A BOT-3000E display after four runs using the procedure in American National Standards Institute (ANSI) A137.1, American National Standard Specifications for Ceramic Tile.
George Sotter, PE, PhD, is president of Sotter Engineering Corporation. His background includes rocket combustion research, air pollution control, and slip-fall prevention. He is a member of ASTM and is certified by the City of Los Angeles to test floor friction. Sotter authored the book, STOP Slip and Fall Accidents! He can be reached at george.sotter@safetydirectamerica.com.
John Sotter is a graduate of the University of California at San Diego in Urban Planning. He has many years of experience in responsible safety work for the City of San Clemente, California, and trained in floor friction testing in the United States and the United Kingdom. Sotter has worked for 15 years in floor friction testing and treatment in North America and on the high seas. He can be contacted via e-mail john.sotter@safetydirectamerica.com.