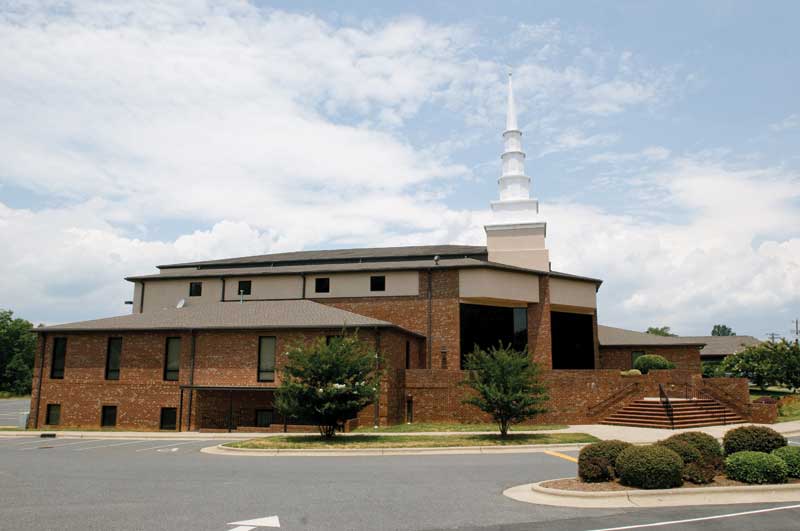 by David A. Brown, PE
The custodian at Asheboro Church of God (North Carolina) had a well-worn routine during summer months. Every Saturday, he would turn on the church's air-conditioning (AC) at 3 p.m. to ensure the space was cool and comfortable for morning service the next day. The 1115-m2 (12,000-sf) building needed an 18-hour cool-down time.
In a time where sensitivity to environmental impacts is growing and utility bills are rising, this is unacceptable. Buildings demand reliable, high-thermal performance envelope solutions that:
drive energy-efficiency;
prevent heat loss;
eliminate thermal bridging; and
control solar gain over its operating lifetime.
These performance criteria are key factors in minimizing energy running costs and reducing carbon emissions, while maximizing property value and lease-out opportunity.
When evaluating a solution for the Asheboro church's re-roofing application, the construction team was faced with these performance objectives. In June 2011, after investigating new innovations in sustainable technology, the team opted for phase-change materials (PCMs).
A 'roof hugger' technique—a sub-purlin system that fits on existing metal panels, supports new panels, and can be configured to add insulation—was used for metal-over-metal re-roofing. The new panels were seamlessly integrated with sheets of a plant-based compound that absorbs heat when temperatures exceed the desired level and releases it when the temperature cools. Like other phase-change materials, it helps regulate the interior climate.
The changes made to the church's appearance were notable, but the most interesting improvement centered on a substantial reduction in energy consumption. Now, instead of an 18-hour cool-down period, the custodian can turn on the AC at 6 a.m. on Sunday to achieve the desired temperature for the day's service. The one-week delay in HVAC activation was immediately recognizable in the church's power consumption. Peak summer internal temperatures were reduced from 35 to 26 C (95 to 79 F). Overall, monthly bills dropped significantly. In two months, the church had reduced its power bill for this portion of the facility by more than $1500 (roughly 50 percent) over previous bills for the same timeframe. Church leaders report the structure is more comfortable and the energy bills still remain low even though the structure's weekly usage has increased.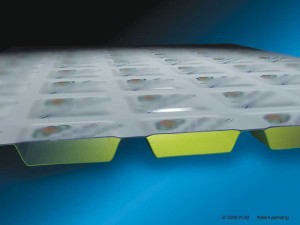 The phase change difference
While metal roofs and metal-framed structures are valued for strength, durability, aesthetics, reflectivity, and sustainability, their low thermal mass causes them to rely on insulating and alternate mass materials to achieve maximum energy efficiency.
Traditional insulation works as a simple barrier, or resistor, slowing heat transfer. This is a good start, but technology has gone beyond insulation to develop metal roofing and/or wall applications integrated with phase-change material technology, which absorbs and releases excess heat as needed.
Phase-change materials capitalize on nature's basic law, heat always moves toward cold. For example, if an ice cube is put in a glass of room-temperature water, it absorbs the latent heat from the water as it liquefies, making the water cooler. If the glass of water is put back in the freezer, it gives off latent heat energy as it solidifies back into ice.
Rather than ice cubes, building technology has created phase-change compounds that liquefy and solidify at specific temperatures. The point at which a substance changes phase can be set at room temperature so the substance absorbs energy above the phase-change temperature and releases energy when the temperature drops below the set point. This process reduces temperature fluctuations, making buildings more energy-efficient.
In the Asheboro church's case, PCMs were further optimized by being installed in sheets integrated with metal panels and insulation in a complete metal roofing system. Rather than just blocking heat transfer, PCMs—which have heat-storing capacities up to 90 times of concrete—absorb heat and release it when the air temperature drops. The materials changes from a solid to a gel, and then back again.
Phase-change materials can absorb and release energy at a predetermined temperature. Using energy that would otherwise be wasted, the systems absorb heat:
entering through insulation (in a cooled building); and
trying to escape through insulation (in a heated one).