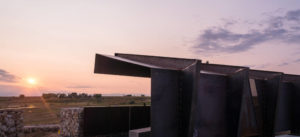 Winners have been selected for the 2017 American Institute of Architects (AIA) Small Project Awards, which are intended to recognize the high-quality work of architects completing even small projects. Entries were assessed by a jury of experts, including:
Category 1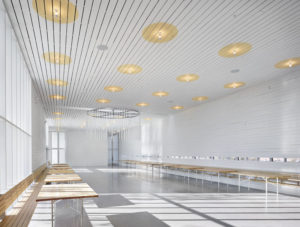 Three projects were recognized in this category, which honors projects (whether buildings, art, or design elements) with a construction cost of up to $150,000. The winners are as follows:
La Cage aux Folles by Warren Techentin Architecture, a layered bent steel tube structure located in Los Angeles' Materials and Applications courtyard gallery, which serves as a tiny venue for scripted and improvised performances;
Colorado Outward Bound Micro-cabins by University of Colorado College of Architecture and Planning's Colorado Building Workshop, which comprise 21 cabins that use a 'box and frame' structure for lodging and storage and use elements such as cedar cladding, hot-rolled rainscreen, and prefabricated birch plywood to blend in with the surroundings; and
Sunset Pavilion by Tomecek Studio Architecture, which frames the natural environment of a Firestone, Colorado, park using steel cantilevers for shade, steel plate and gabion walls to emphasize the view, and overhead perforations to track the sun's movement.
Category 2
Intended for projects of up to $1.5 million in construction cost, this category features five winners:
Category 3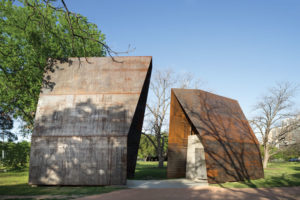 This category awards projects smaller than 464 m2 (5000 sf). This year, its winners were:
Funny Girl Farm Produce Barn by Szostak Design, a Durham, North Carolina-based work shed measuring 399 m2 (4300 sf), which uses wood and steel to reflect its practical purpose without sacrificing aesthetics;
Lady Bird Loo by Mell Lawrence Architects, two single restrooms on a stretch of trails in Austin, Texas, which use unfinished steel and concrete with intentional gaps to create light and shadow patterns and accomplish project goals of durability, airiness, and vandal resistance; and
De Maria Pavilion by Gluckman Tang Architects, located in Bridgehampton, New York, which links sculptures along an informal art walk, using irregular façade elements, board-formed concrete interior frames, light-diffusing glazing, and other aspects to reflect and contrast with the nearby art.