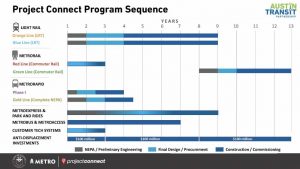 Architecture firms HKS, UNStudio, and Gehl will lead a design team tasked to create the system-wide architecture and urban design for the light rail program of Project Connect, a $10.3 billion expansion of the public transport system in Austin, Texas.
The firms will be working with Austin Transit Partnership (ATP), the independent local government corporation responsible for the project. ATP was formed by the city of Austin and public transportation provider Capital Metropolitan Transportation Authority (CapMetro). Project Connect is a transformative, voter-approved investment that includes a new light rail, expanded bus routes, a subway, and more transport services across the city.
Design research and visioning will begin this month and continue through the project development phase. ATP will share an updated light rail implementation plan in spring 2023.
HKS is a global architecture, design, and planning firm with an office in Austin. According to principal and local office director Chi Lee, their team is humbled by the "once-in-a-lifetime opportunity to demonstrate people-first design that prioritizes equity, well-being, and resilience." Lee believes the project will transform the city by making its neighborhoods more accessible and affordable, as well as promoting sustainable growth and development.
"We are thrilled to work with this visionary, interdisciplinary design team," says Peter Mullan, ATP's executive vice-president for architecture and urban design. "The design team brings both broad international expertise delivering transit and public realm projects at the highest level of design, and an acute sensitivity to Austin's specific culture and heritage. Project Connect gives us the opportunity to stitch our community together more closely and to adapt our core values to our continued growth and our increasingly urban future."