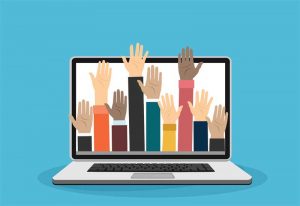 Spring is right around the corner, certification exam registration windows are opening, and life continues to trend toward normality, as more people get back to familiar work habits and also start spending more time outdoors.
As we press fast forward from a year of uncertainty and upheaval to one filled with new promise and opportunity, the CSI team wanted to suggest three key ways you can expand your professional community, supercharge your career, and hone your public image.
1. Volunteer
Giving back to your professional association is rewarding, and helps you get to know your CSI community more deeply. You will not only gain new knowledge and skills, but also have the opportunity to share your expertise. Besides gaining bragging rights about the impact of your volunteerism on the construction industry, you earn two CSI learning units per year, which you can use when recertifying a CSI credential.
Here are just a few ways volunteering can help you foster connections and maintain relationships within CSI:
the CSI board is always on the lookout for their next leaders—your involvement can help the association remain the gold standard for every AECO professional;
CSI's learning department oversees the association's academic programs and knowledge committees and needs subject matter experts to assist in producing new learning modules;
working groups and task teams provide critical updates for CSI certification exams as well as CSI Bookstore products, such as MasterFormat, UniFormat, and practice and study guides.
Find out more about these opportunities at www.csiresources.org/volunteeropportunities/opportunities-list-public.
2. Earn a CSI certification
Are you ready to earn your Construction Documents Technology (CDT), Certified Construction Contract Administrator (CCCA), or Certified Construction Specifier (CCS) certification? These certifications demonstrate the breadth and value of your knowledge and expertise in the AECO industry, and prove you are a valuable member of any project team. Setting your sights on reaching one of these goals will allow you to put your knowledge and experience to the test, and create a benchmark for opportunities to enjoy throughout your career.
CSI has created resources to help you earn your CSI certification. Practice guides serve as a major part of the curated knowledge CSI has to offer professionals. Each book examines important concepts and best practices integral to a particular aspect of the construction process. Visit www.csiresources.org/learning/practice-guides.
The study workbooks are designed to be used with practice guides. These newly revamped digital workbooks comprise interactive elements to enhance your learning experience.
The CSI handbooks for certification candidates are free resources and your starting point when prepping for a certification exam. Each handbook contains pertinent information regarding candidate requirements, application procedures, and CSI certification policies. They are available at ebooks.csiresources.org.
Once you have signed up for the exam, you will automatically be added to a virtual study group. This interactive resource includes a discussion thread to share ideas, topics, and questions with fellow test-takers, and online sessions for catching up and asking questions or getting clarification on topics related to the certification you are seeking.
Registration for the Spring 2021 exam cycle is open. Visit www.csiresources.org/certification for more information.
3. Update your profile
Your member profile on www.csiresources.org is your digital business card, community connection, personal e-mail, direct link to professional resources, and resume. If you have the most up-to-date information on your profile, you will have immediate access to your favorite communities and networks, and also receive the news and updates you need to succeed at work.
Ensure your CSI profile includes your current mailing address, especially if you are expecting a membership or certificate.
As always, reach out to our member services team if you need assistance with any of the above at csi@csinet.org.