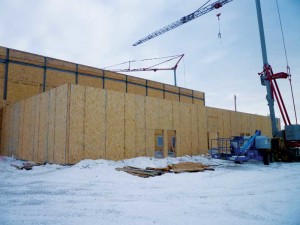 Sealing methods
Some common sealing methods for SIPS include:
mastic;
expanding foam;
SIP tape; and
vapor retarders.
It is important to confirm with the SIP manufacturer which particular sealing material types and methods are recommended for the panels. Further, local codes should be consulted for any regional or project-specific requirements.
Mastic
Adequate sealing against air and vapor migration requires mastic between all foam-to-foam, wood-to-foam, and wood-to-wood interfaces, including:
between individual SIP panels;
between panels and the wall bottom and top plates; and
other locations where the SIPs join to parts of
the structure.
Polymeric mastics are often chosen because they remain flexible in a range of temperature and humidity conditions.
Expanding foam
Where voids occur between SIP panels or other parts of the structure, high-expanding foam sealant can be used to fill them. Such areas include:
junctions between sloped SIP roof panels and flat-top wall assemblies (where panels meet at a roof ridge);
around recessed switch and outlet boxes; and
hollows created at the edges of a panel's EPS foam to accommodate anchor connections.
SIP tape and vapor retarders
In commercial projects with appropriately designed and sized mechanical ventilation systems—as well as structures used for storage or general warehousing—a vapor retarder may not be required. However, for buildings with high humidity (e.g. housing pools, spas, or other moisture-generating sources), a vapor retarder may be necessary. In these cases, the project's mechanical engineer should be consulted for details. For such projects, the combination of properly applied mastic in the panel joints, SIP tape, and the panel itself helps meet the building code requirements for vapor retarders.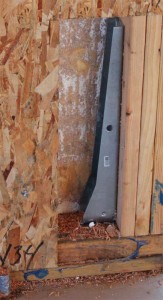 Typically, panel installation details call for 152-mm (6-in.) wide SIP tape at all wall and roof panel joints and wall panel corners. Tape that is 305 mm (12 in.) wide is used where roof and wall panels join. In locations where roof panels meet over supporting beams (e.g. at a ridge beam), 457-mm (18-in.) wide SIP tape is used. In certain climates (and based on local codes), it may be necessary to include an additional vapor retarder, such as polyethylene sheeting or similar materials.
In addition to calling for appropriate sealing, project specifications should include a note to the contractor to protect SIPs, splines, and other accessories from the elements before installation.
Adequate air exchange
Since SIP buildings are tight and have low air change rates, mechanical ventilation is typically needed to ensure sufficient fresh air volumes for occupant comfort and to help control interior moisture levels. Fortunately, the high-performing insulation of SIPs allow for HVAC equipment smaller in size than required in typical construction.
When designing ventilation systems in these buildings, Structural Insulated Panel Association (SIPA) emphasizes:
Proper HVAC sizing is important because an oversized mechanical system will not reach the steady operating rate for which it was designed. Short-cycling HVAC equipment will be less energy-efficient and need more maintenance.
The necessary size and type of mechanical ventilation system varies by climate, building occupancy, and other factors. Generally, mechanical engineers design such systems to limit the indoor relative humidity (RH) to between 30 to 50 percent, depending on the climate. (This is a target for various building construction types, and is not specific to SIP). Such levels are low enough to inhibit mold and mildew, yet high enough to mitigate dust mites and other low-humidity irritants.