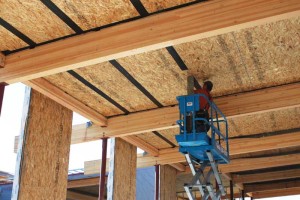 Common ventilation systems 
The following are common mechanical ventilation systems, some of which are appropriate for SIP buildings, while others are not.
Heat recovery ventilators (HRVs)
Also called air-to-air heat exchangers, HRVs draw air from high-humidity areas such as bathrooms and kitchens. They pass the moisture-laden warm air through a core where it pre-heats incoming cool, fresh air from the outdoors before exhausting the remaining moisture laden air from the building. Design professionals specify HRVs mostly in cold climates, where relatively dry outside air prevails in the winter. For example, HRVs are often used in SIP buildings in the Upper Midwest.
Energy recovery ventilators (ERVs)
Similar to HRVs, ERVs exchange heat between indoor and outdoor air, but they also reduce air moisture levels in high-humidity climates. ERVs may be appropriate for SIP buildings in the Pacific Northwest and Gulf Coast.
Ventilating windows
Such windows typically operate manually and rely on a grille to both exhaust and replace air. They are more common in residential applications. Ventilating windows do not condition air for heat or humidity. For SIP homes, ventilating windows can help provide fresh air, but at the same time can offset the benefits of a well-insulated building envelope since they do not manage heat.
Exhaust-only systems
While exhaust-only systems may be appropriate in some commercial and residential buildings, they should not be the only air management source in SIP structures and other ultra-tight buildings. The simple exhaust units rely on air infiltration throughout the building envelope to replace the vented air, so they may cause negative indoor air pressure in a tightly sealed structure.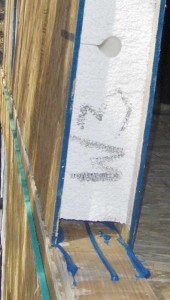 Exterior walls
Rain leakage into the enclosure is the leading cause of premature building enclosure failure. Similar to other wall and roof assemblies, SIP buildings must include a means for protecting against bulk water intrusion. Both International Building Code (IBC) and International Residential Code (IRC) require flashing, a water-resistant barrier (WRB), and drainage planes to the exterior for any water that gets into the envelope.
Code compliance evaluation reports for SIPs usually require installation of a WRB over the SIP panels' exterior face before the wall covering is applied, in accordance with IBC Section 1404.2, "Water-resistive Barrier," as well as IRC Section R703.2, "Water-resistive Barrier."
Potential WRBs include approved building wraps or liquid-applied membranes. Building wrap considerations include a cross-woven texture to resist tearing around fasteners, micro-perforations to allow moisture vapor to escape, and treatment to resist excessive degradation from ultraviolet (UV) exposure during construction. Both the manufacturer and local codes should be consulted for specific requirements, including additional requirements for exterior wall finishes using portland cement plaster.
An additional protective measure for SIP wall panels is to prevent direct contact with the concrete foundation wall or floor slabs. This avoids moisture wicking from the concrete into the panels' OSB skins. The requirement is similar to the protection necessary with other wood structural framing. Typical construction details for SIP wall-to-foundation and wall-to-slab connections include a capillary break on the concrete. An example is a preservative-treated sill plate cut to the SIP panel's full width.