by Sean McTaggart, AIA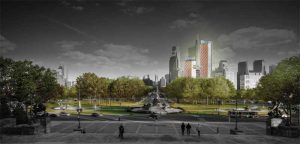 Advocates for mass timber construction, a relatively new technology, boast of faster construction times, lower labor costs, and environmental benefits. However, some building professionals are still skeptical. Did we not learn our lesson from the great fires of Chicago and San Francisco? how can we afford to cut even more trees down when deforestation is a huge global problem? Despite this heated debate, wood office buildings as tall as eight stories are popping up across the United States, and architects are dreaming up timber towers as tall as 80 stories.
Hickok Cole, a design firm in the nation's capital, has partnered with industry experts to carry out various pricing exercises, research grants, and client feasibility studies. Building on this experience, the firm has designed Timber Towers, a conceptual 60-story mass timber skyscraper in Philadelphia, to showcase what is possible with wood.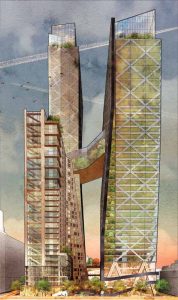 Inspired by the various mass timber projects demonstrating alternative means of construction at Timber City, a 2017 exhibition at the National Building Museum in Washington, D.C., a small Hickok Cole team partnered with DPR Construction and Arup to develop an apples-to-apples comparison between mass timber, concrete, and steel. The goal was to understand not only the cost premiums but also the design implications of bringing a code-compliant mass timber building to the D.C. market. Along with several pure wood and composite structure solutions, the pricing exercise concluded mass timber costs roughly $8 more per square foot than concrete, a material dominating construction in the nation's capital.
With this newfound knowledge, the next logical step was for Hickok Cole and Arup to push the limit of tall wood construction, but not in a city with a 40-m (130-ft) height limit. The closest market supporting a true 'skyscraper' is Philadelphia that unlike Washington, D.C., has no prohibitive building height limit. The vehicle for this exploration was 'Timber Towers,' their submission for the Skyhive Skyscraper Challenge. The competition asks participants to rethink construction materials and technologies in a future of rapid urbanization and depleting resources.