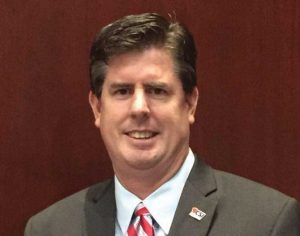 The value of sharing your expertise
CSI board of directors chair-elect, William Sundquist, FCSI, published a timely article titled, "Permeable Pavers: Resilience for Your Home and Community," in Elemental.Green, a resource for green home building and design.
In the article, Sundquist, national sales manager for Whitacre Greer clay pavers, states, "As our landscape keeps evolving with the built environment, the need for environmentally friendly outdoor building materials becomes more and more necessary for our communities. Landscapes have changed from natural open spaces that could absorb most rainfall events. Today, our communities divert large amounts of rainfall runoff and discharge into waterways, hopefully filtering it first. As this trend progresses over time, the ground is not able to absorb rainwater as it used to. Thus, increasingly disruptive flash floods plague urban and suburban spaces. Fortunately, an alternative to standard driveways and concrete patios is gaining increasing attention. Beautiful and functional, permeable pavers were developed to enhance our hardscapes and to help manage rainfall runoff and recharge our local water tables."
Sundquist provides several examples of where pavers can make a positive impact in local waterways and communities. Here, he provides some background on the value of architecture, engineering, construction, and owner (AECO) community experts sharing their professional insight with colleagues in
the field.
Why is it important for CSI members to write about their professional experience and share their knowledge with other professionals?
I have always believed CSI members are the knowledge library of the AECO industry. I remember when I was young in my CSI career and an architect told me, "It is not what I know about my product that is helpful, it is knowing how my product works with others is when I become a valuable resource."
Why are permeable pavers such an important topic for you to discuss?
I always say everyone in the AECO industry has a responsibility towards the built environment and, therefore, must design/build to today's construction challenges. Stormwater management is a current construction challenge because the Earth does not absorb water like it did in the 1800s. Therefore, permeable products, or any products, that help a client manage stormwater runoff are critical to the performance of modern-day infrastructure.
What other ways do you see environmentally friendly building materials being integrated into construction projects?
There are many ways I see this, but specifically to my expertise, I am seeing more solar components added to veneer materials to supply electricity to a building. The advances in technology have been tremendous since I entered the industry in 2001. Not only has the thermal performance of a veneer wall system been enhanced to reduce energy use, but the collection components have made tremendous strides which allow buildings to become less dependent on traditional energy supplies.
What other ways can CSI members make a positive impact on the AECO community?
By inviting all members in our industry to participate in sharing their knowledge; I consider CSI to be the library of the AECO industry. The longer you stay in a library, the more you learn and grow as a person. Professionally, with our diverse membership, there is no better place to engage in dialogue and knowledge sharing in the AECO industry. I have always said, the stronger CSI is, the better our industry will perform.
Is there anything else you would like to add?
Yes, when does one say no? Being on any construction team comes with a responsibility to perform professionally. This means sometimes you have to say no. In my case, no, this product does not meet the specifications and performance as designed. If I have one major takeaway from CSI, it is the empowerment and importance of knowing when to say no, because it is not about a lost sale, it is about the safety of those who will walk into that building for decades to come. Saying yes is easy, saying no to uphold my professional responsibilities is a duty.

Peter Kray is a content strategist with CSI. He can be reached at pkray@csinet.org.