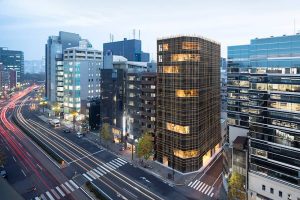 Designed by Japanese studio Nendo, the Yokohama Ekimae building, an 11-story office tower located in the Kojimachi neighborhood in central Tokyo, Japan, creates a more physical experience to the outdoors with its Kojimachi Terrace or 'Sky Forest.'
Unlike typical office buildings that are usually built as closed-off blocks with artificial climate control that do not share any real physical connection with their exterior environments, the Kojimachi Terrace design takes external elements into account to allow for a more personal experience with nature, like witnessing the changing weather and yearly seasons.
To best incorporate the environment, balconies have been placed sporadically on six out of the building's 11 floors. Assumed to be used as exterior spaces, each terrace can transform into a private meeting area by closing the doors and windows concealed around it.
An open-air garden located on the building's highest levels, incorporates lush greenery infused with natural light and air. This three-story 'Sky Forest' allows for a nature-like hideaway for the building's employees, while generating a sense of unity over the different floors. The rest of the building's façade is covered with large glass windows.
By designing the rails and pillars of the building to appear the same size and wooden finish as the façade, and by weaving this together into a natural looking grid, the visual noise has become integrated and camouflaged within the exterior. This reduces the flat and cold impression, often seen in most office buildings.