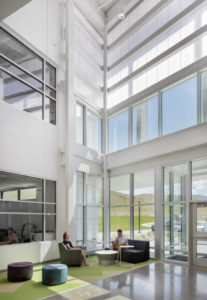 Set within a 15-ha (38-acre) educational campus in Casper, Wyoming, Roosevelt High School and the new Pathways Innovation Center (PIC) share 11,705 m2 (126,000 sf) of learning space. The facilities emphasize daylighting, openness, transparency, and collaboration. Exemplifying these objectives with a translucent façade is a 278-m2 (3000-sf) interlocking polycarbonate dual wall system, which also provides high thermal performance. Additionally, customized vertical sunscreens were employed for aesthetic accents and light diffusion.
Beyond the need for new and updated buildings, the Natrona County School District's overall goal was to provide an environment allowing for the advanced technology necessary to prepare children for success in a world one cannot yet imagine.
The Pathways Innovation Center caters to 500 students from Roosevelt and two other area schools. The school district wanted to increase engagement with the children, and not just add more classrooms. It worked with local industry leaders to ensure the center teaches the skills and tools the trades are using right now.
Defining PIC's interactive style also influenced its structure, which is not a typical brick building. For inspiration, the architects looked outside the educational system—private-sector facilities such as Boeing's Washington offices where engineering and design teams work under one roof.
At the core of PIC's 7788-m2 (83,835-sf) building— where a traditional school design may place the lunchroom or commons area—is a 'Fabrication Hall.' All four PIC academies share the space and are intended to foster inspired thinking and hands-on learning.
The hall offers a 464-m2 (5000-sf), two-story common space surrounded by cutting-edge laboratories and equipment. The 9-m (30-ft) high exterior wall facing north incorporates polycarbonate panels, providing insulating values up to R-8.2. On the west elevation, the wall cantilevers. In contrast to schools that historically delegate industrial and engineering classes to windowless lower levels, students enjoy great views and have access to light.
Anticipating the students' experience within the hall, the building team had the forethought to consider the sun's path throughout the day. Low sun angles in the afternoon would generate unwanted glare on work surfaces and computer screens. Custom-fabricated vertical sunscreens with 38-mm (1.5-in.) thick cellular polycarbonate were employed to manage glare.
Daylight extends deeply through the hall's interior. Both the sunscreens and the dual wall system help reduce solar heat gain into the building envelope. This lessens dependence on electric lighting and the associated utility costs.
With respect to PIC's energy efficiency, thermal performance, daylighting, and views, sustainability is very important. Although the project did not attempt certification under the Leadership in Energy and Environmental Design (LEED) program, every aspect of the design was considered with intention, and sustainable principles and materials were integrated throughout the project.
"The thermal envelope is above code. There are no volatile organic compounds (VOCs) to off-gas. There is no concern for 'sick building syndrome.' Green design is an everyday part of work for us," said Scott Krenner, senior associate at Cuningham Group, which designed the buildings along with local partner MOA Architecture.
The adjacent Roosevelt high school features a more traditional learning space than PIC. It serves a significantly smaller student body—approximately 220 students—and is also the smaller of the two facilities at 3924 m2 (42,240 sf). The old building was constructed in 1900 as an elementary school. More than 120 years later, the structure continues to be reimagined to benefit future generations.
The updated school's main entry welcomes all with a two-story sunlit atrium. Strengthening the community within these window-lined walls, Roosevelt's students and staff gather as a whole school every day—they have breakfast together, and take five-minute exercise-breaks throughout the day.