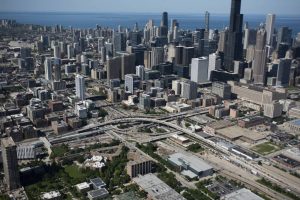 Infrastructure consultancy TranSystems has acquired Chicago-based engineering firm OMEGA & Associates, in an effort to grow their services in the greater Chicago area.
Established in 2002, OMEGA & Associates specializes in construction engineering and program management services. Its team has provided engineering for a variety of major infrastructure projects—from large-scale expressway and tollway projects to multimillion-dollar roadways, bridges, and water/utility construction projects. The company's 80-person infrastructure team will join TranSystems' national 900-person workforce.
"The combination of TranSystems' Chicago presence with OMEGA creates a top consulting firm in Chicago serving the full transportation marketplace," said Richard Morsches, chief executive officer of TranSystems. "We look forward to leveraging OMEGA's construction and program management expertise to our clients we serve in Chicago and nationally."
For more than 56 years, TranSystems has provided engineering and architectural planning, design, and construction solutions to enhance integrated transportation infrastructure.