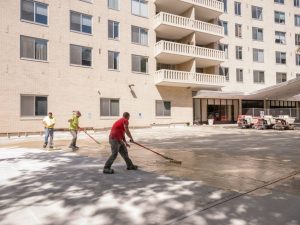 Tremco Incorporated's Commercial Sealants & Waterproofing, Roofing & Building Maintenance, and Tremco Barrier Solutions operating divisions, together with Dryvit Systems, Inc.; Nudura Inc.; Willseal; Weatherproofing Technologies, Inc., and Weatherproofing Technologies Canada are joining under a single corporate identity: the Tremco Construction Products Group (CPG).
Tremco CPG is the industry's only provider of comprehensive systems and services for all six sides of the building enclosure.
"Ultimately, building owners and construction industry firms benefit when materials manufacturers work together to offer solutions, whether they are restoring or renovating an aging structure or designing and constructing something entirely new," said Paul Hoogenboom, Tremco CPG president.
"It makes perfect sense for these previously independent manufacturers to come together. Having one point of contact who connects you to a full team of problem-solvers, for constructing and weatherproofing your building's roof, façade, glazing system, and foundation simplifies the design and material selection process, and greatly increases the performance and lifespan of your structure," Hoogenboom explains.