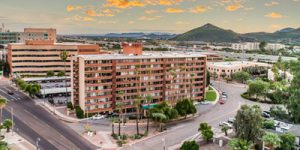 Real estate company Vertical Street Ventures (VSV) has completed its acquisition of Tucson, Arizona's Redondo Tower, with plans to upgrade and expand the building's list of amenities.
This marks VSV's fifth property purchased in Tucson and 12th property acquired in Arizona. Arbor Realty Trust provided the debt on the project. MEB Management will manage the property. Design and construction will be managed by Gia Venturi.
A 96-unit high-rise apartment building, Redondo Tower is a key part of downtown Tucson, which will be rebranded as Vertical Heights. Residents of the property will enjoy many new amenities, including adding a new rooftop lounge, a new gym and yoga studio, and a state-of-the-art co-working lounge, as well as modernizing the existing pool. The unit interiors will undergo extensive renovation with brand-new kitchens, bathrooms, and washers and dryers in each unit. Located centrally right off the 10 freeway, a five-minute walk to anywhere downtown, and a 10-minute drive to the University of Arizona campus. This is a prime location for many job sectors.