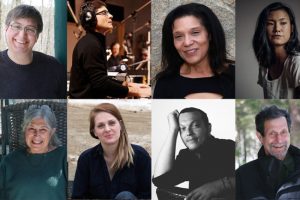 Architects Jeffrey Halstead and Cassim Shepard have been awarded fellowships from the MacDowell Colony, Peterborough, New Hampshire. They are among 87 artists from 21 states and seven countries.
The incoming fellows reflect seven artistic disciplines and will arrive from places such as Poland, Mexico, Belgium, and Israel, as well as Tennessee, Washington, and Minnesota. The fellowships are for upcoming winter and spring residencies at one of the nation's leading contemporary arts organizations. The mission is to identify talented emerging artists as well as provide ongoing support for established art makers.
"At a time where societies feel imperiled and the news cycle endless, providing time and space in a pastoral setting is a vital opportunity for creative spirits to risk and experiment with new ideas," said Philip Himberg, executive director. "More than ever, the work of MacDowell feels urgent, and our hope is that the plays, novels, music, and visual art that is born, in part, in Peterborough, finds amplication across the globe. Art informs us and transforms us."
These highly competitive fellowships, each with an average value of more than $10,000, were awarded from a pool of 913 applications received by the most recent of MacDowell's three annual deadlines. A panel of distinguished professionals in each discipline selects fellows based on their talent and vision, as evidenced by a work sample and project description. While at MacDowell, fellows are provided a private studio and accommodations for a period of up to eight weeks and three meals a day.
Fellows make use of uninterrupted time to work and enjoy the rare opportunity for multidisciplinary exchange. Artists with demonstrated financial need are eligible for travel grants and stipends to cover expenses that accrue at home while away at a residency. The MacDowell Colony awards more than 300 fellowships annually.