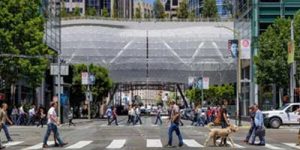 Buro Happold, a U.K.-based design firm, has expanded its U.S. presence with five new offices and more than a dozen key staff members in cities from San Francisco to Washington, D.C.
The firm's presence in North America has vaulted from seven offices to 12, now including active locations in San Diego, Seattle, Minneapolis, Washington, D.C., and Raleigh-Durham. Additionally, the consultancy has named a noted leader in sustainable design and technical excellence, Justin Schultz, to lead its growing San Francisco office.
Across the continent, Buro Happold has established a new beachhead in Washington, D.C., including a new associate principal, structural engineer Chris Crilly, LEED AP, known for his work on high-profile, high-design projects with innovative concrete and steel structures. Also joining the D.C. office as principal is Roger Chang, PE, a LEED Fellow and noted leader in sustainable design who will advance Buro Happold's Capitol-area team of experts and expand the firm's reach of world-class design and planning work across the region.
Adding to Buro Happold's diverse staff of over 300 employees—ranging from engineers and architects to planners, economists, urban designers, and real estate professionals—the new expansion is focused on adding capacities sought after by a wide range of prominent clients. Growth in key sectors includes the new San Diego office, for example, which is completing its first major cultural project this spring.
"In the U.K., we now have 1000 staff members, and our goal has been to accelerate our building of a similar presence in the United States, focused on the most challenging, design-intensive and complex challenges the world faces today," said Buro Happold chief executive officer James Bruce.