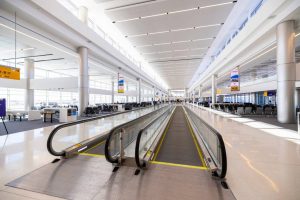 Denver International Airport (DEN), the U.S.'s largest airport, and one of world's busiest, recently opened its new Concourse A-West, built to reach the goal of increasing the airport's overall gate capacity by 30 percent, and expanding the annual traffic to the airport to 100 million within the next decade.
Currently, DEN is ranked by OAG as one of the top ten busiest airports in the world, and it is by size—135 km2 (52 miles2)—the largest airport in the U.S., according to We Build Value. HNTB served as lead designer, architect, and engineer for the A-West expansion. The HNTB design and construction administration teams included more than 19 subconsultants and was comprised of a diverse group of businesses reflecting the local community.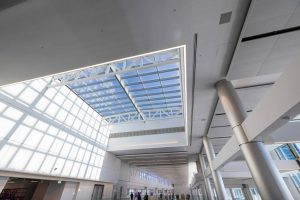 The new A-West Concourse includes 12 gates, 16 hold rooms, and additional support space totaling 49,239 m2 (530,000 sf) of new space. There are 929 m2 (10,000 sf) of new concessions space, a new outdoor deck with views of the mountains, outdoor seating and firepits for ambiance, plus a pet relief area, and nursing room for traveler convenience.
"HNTB is committed to working with the Denver airport to ensure it will have the necessary capacity and infrastructure to meet growing passenger needs and its Vision 100 (100 million passengers within the next decade)," said Reza Akhavan, PE, HNTB Denver office leader.
A-West opened to flights and passengers on Nov. 5. HNTB-designed Concourse B-West previously opened in Nov. 2020, adding four new gates and nearly 8361 m2 (90,000 sf) of new space. The project recently won a Gold Award in Design from the International Interior Design Association, Mid-American Chapter.