HORIZONS
Sam Wainer
When a building is certified to Leadership in Energy and Environmental Design (LEED) status under the U.S. Green Building Council's (USGBC's) rating program, the owners want to tell the world. Communicating the certification not only promotes the organization's commitment to sustainability, but it can also educate the public about what it is, highlighting the specific design attributes needed to achieve certification, and recognizing the architect, builder, and other stakeholders.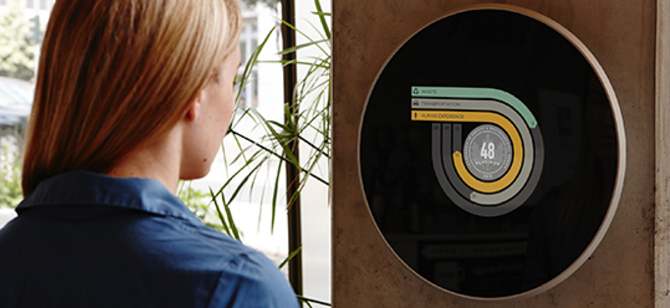 In moving through the certification process, it is important to pick the recognition display that fits the project, communicating both the sustainable design elements and aesthetic characteristics of the building. This article provides an overview of several LEED recognition display options as well as a checklist to help you pick the right one for your project:
LEED recognition display options
Before exploring the options, it is important to remember LEED recognition displays must come from an approved USGBC partner. Only approved partners who verify the authenticity of a project's certification should be used.
Logo plaques
Etched or water jet-cut LEED logo plaques have been the standard recognition for several years. Available in a variety of materials from glass to granite to wood, it displays the logo for the certification level achieved (e.g. Silver, Gold, or Platinum). However, these logo plaques lack customized content—be it the project's unique sustainable features, stakeholder recognition, or insight into what the certification means. These plaques are durable and can cost anywhere from $44 all the way up to $1800, depending on the material and size.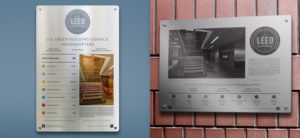 Recognition plaques
Recognition plaques allow owners to highlight project-specific design elements related to sustainable design and LEED certification. They feature a high-resolution photograph or rendering of the project along with a scorecard and seal. There is space to recognize key stakeholders and an optional description of the project and its features. Unlike custom architectural signage, they are based on standard graphic templates and integrated into USGBC's database so the design process is somewhat automated. Custom proofs for approval are e-mailed within days.
The plaques themselves are displayed inside of architectural-grade anodized aluminum, providing extreme durability and a contemporary look and feel. Each plaque comes with standoffs fastened to virtually any surface. They come in two sizes: 457 mm x 609 mm (18 in. x 24 in.) estimated at $750 and 558 mm x 889 mm (22 in. x 35 in.) at $1000.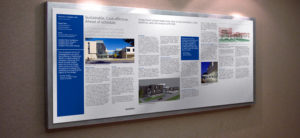 Custom architectural signage
Signage design firms can create custom designed and fabricated displays. These can range from a 50-mm x 50-mm (98-in. x 98-in.) plaque to a large-format wall-sized kiosk. Custom signage requires the individual to have a fairly specific idea of the content to covered (e.g. graphics, copy), as well as a graphic designer to lay everything out. Installation can be challenging as standard mounting systems may not work. The result is typically aesthetically appealing—it is imperative the owner makes sure the signage partner is picking materials that are durable (i.e. will not fade, scratch, wear with cleaning, etc.). The cost of custom signage installations starts around $3500 and can go beyond $15,000.
Interactive displays
The LEED Dynamic Plaque (shown at the beginning of this article) is an electronic building-performance monitoring and scoring platform, providing data for annual recertification and benchmarking. The plaque displays the performance score, which reflects the measured performance of the building across five categories: energy, water, waste, transportation, and human experience. The data can be collected automatically through the building's existing smart meters and automation systems, or manually by periodically uploading data to a website. It also supports the project's subsequent recertification. The plaque was developed by USGBC and is free with an annual $6000 subscription. However, it is not intended for outdoor usage as it is an electronic component.
Sam Wainer is the product manager of Horizons Incorporated, located in Cleveland, Ohio. He is an experienced marketing consultant who is now on the client side of market managing and producing product development for a medium sized manufacturing company. Wainer can be reached via e-mail at swainer@horizonsisg.com.